Greek parliament approves draft 3rd bailout after marathon overnight session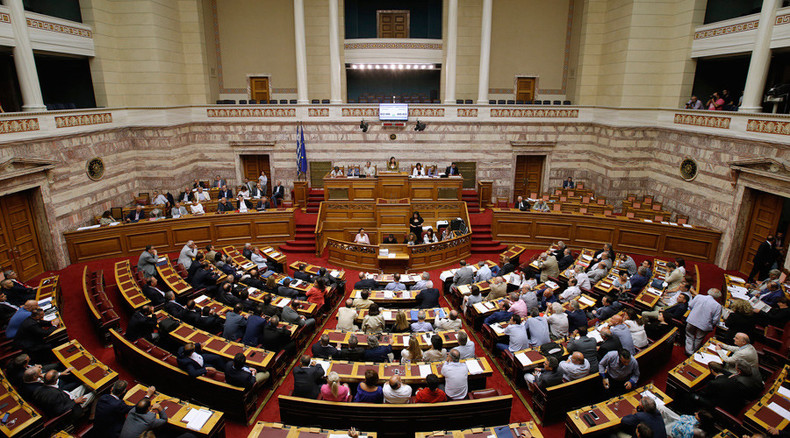 The Greek parliament has approved a draft law enacting a third bailout plan. The votes of opposition MPs were crucial for the legislation to pass after the debate dragged out through the night and well into the morning.
A majority of the 222 members of parliament voted 'Yes' to the package of reforms, with 64 voting 'No' and 11 abstentions. The deal which includes tax rises and spending cuts in exchange for free loans was met with much opposition within the Greek parliament. Key ruling Syriza party members, including former Finance Minister Yanis Varoufakis, voted against the bill, while some of his allies abstained.
#Greece parliament approves #ESM loan & MoU bill with 222 Yes votes vs 64 No votes. 11 MPs abstain.

— Konstantinos Pappas (@kpappas1955) August 14, 2015
The €85 billion loans-for-austerity program proposed by the Troika creditors was ratified Friday. If the bailout is ratified by the Eurozone ministers later Friday, Athens may receive loans of up to €25 billion in a first tranche.
Greece is due to make a €3.2 billion repayment to the European Central Bank on August 20. However, it's still not known whether it would be paid from the first tranche of the bailout, or from a bridging loan. Such a one-off loan is an option if Eurozone ministers insist that Greece passes further austerity measures before they sign off on the loans.
READ MORE: Greece & lenders agree on bailout terms – European Commission
The European Commission is preparing a "Plan B" for Greece at the request of finance ministers of the Eurozone countries, La Libre Belgique reports. If the deal is not approved by the informal Eurogroup, representing the finance ministers of the 19 countries in the Eurozone, and the parliaments of Germany, Finland and the Netherlands, Athens would have to hope it gets a bridging loan to cover three months of repayments.
The German Bundestag could vote on the Greek bailout as soon as Tuesday, if Eurozone ministers approve the deal on Friday. Germany's Bild tabloid reported this week that Chancellor Angela Merkel's government considers the agreement insufficient, however. Germany is not sure whether Athens will be able to repay its €320 billion foreign debt. Berlin is also concerned that that the setting up of the €50 billion privatization fund has been postponed, and is also uncertain about the role of the IMF in the deal.
READ MORE: Berlin calls Greek bailout 'insufficient' as Athens struggles to reach consensus on terms
The Greek parliamentary vote came just hours before Eurozone ministers were about to meet to discuss the deal. Zoe Konstantopoulou, the speaker of the Greek parliament who is known for her distaste for Tsipras's agreement with the Troika in July, did everything possible to filibuster the debate, which had been scheduled to conclude Wednesday.
You can share this story on social media: