UK dairy farmers protest against low milk prices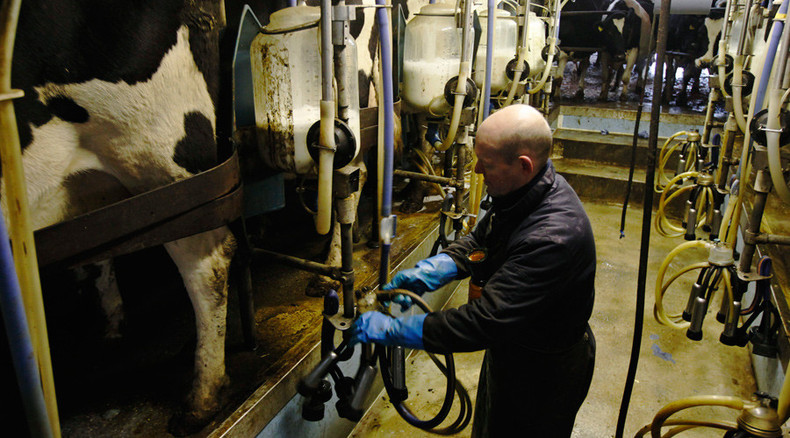 Farmers across the UK are continuing to find creative ways to draw public attention to falling milk prices.
In Kilmarnock and Hereford, farmers cleared milk off the shelves of local supermarkets.
Dairy farmers gave away free milk to attract the public's attention to the falling prices.
A convoy of 30 tractors blocked traffic from Derbyshire to Stoke.
Visitors to Redcar beach in the North of England saw farmers arriving with some of their cows to draw attention to low prices.
Demand has plummeted since Russia, the EU's largest buyer of butter and cheese, banned dairy products from Europe. Sales in China have also declined, pushing prices down.
"There's a crisis. People are selling the core of their business just to pay bills and the banks. It's also a crisis for the consumer. They wish to buy British but if we don't address this situation that's going to be taken away from them by corporate greed," says David Handley, who heads the Farmers for Action group, notorious for about 100 trolley dash protests.
The protests began after the UK's three major milk processors – Arla, First Milk and Dairy Crest – said they would pay the farmers less. According to AHDB Dairy, the UK dairy organization, farmers were paid an average 23.66p per liter in June, down 10 percent since the beginning of the year and 25 percent less than a year ago. Farmers say it costs them about 30p to produce a liter.
Stores like Tesco, Sainsbury's, M&S and Waitrose are ready to pay fairly, but only seven percent of the British milk is sold under such conditions.
"Tesco has been very clever. All you'll ever see is that they pay a sustainable price for milk, but what they don't say is that they don't pay a sustainable price for yoghurt or cheese," Handley said, adding that only Marks & Spencer and Waitrose paid fairly for all the milk products, including cheese and cream. His Farmers for Action group advises not to buy dairy products at Morrisons, Aldi, Lidl and Asda.
The Royal Association of British Dairy Farmers says that the price cuts will bankrupt more and more farmers. About a thousand farmers left the business over the last two years, saying it was impossible to keep it cost-efficient, and this figure continues to grow every week.
It's not only British farmers who are protesting against the five-year-low prices in the EU. Belgian farmers burnt tires and blocked roads with tractors, while French dairy producers prevented trucks from delivering imported cheese to the country.