BRICS mutual trade up 70% in 6 yrs – South Africa president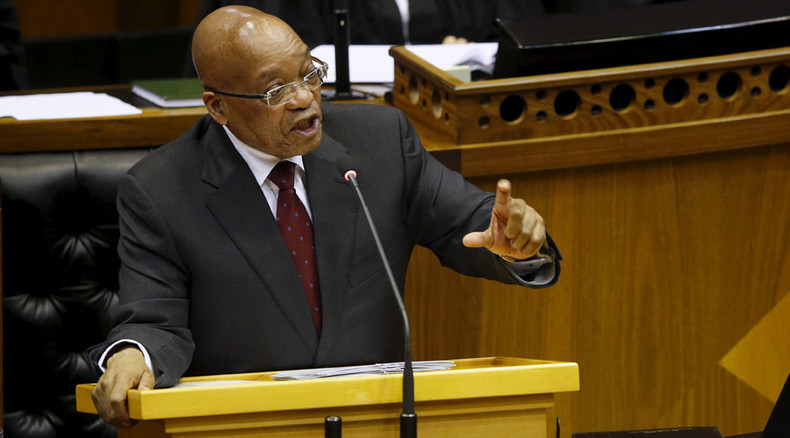 Trade between BRICS countries has increased 70 percent since the group was established in 2009, according to South African President Jacob Zuma. The economies of the five BRICS nations account for almost 30 percent of global GDP.
"BRICS presents an aggregate GDP exceeding $32 trillion. This marks a 60-percent growth since the formation of the grouping," Zuma told reporters on Thursday in Cape Town.
BRICS countries (Russia, Brazil, India, China and South Africa) produce a third of the world's industrial products and half of all agricultural goods.
They attracted 20.5 percent of total global direct investment in 2014, an increase of 3.5 percent over 5 years.
"The share of BRICS capital investment on the global markets has also increased significantly from 9.7 percent to 14 percent since 2009," Zuma said.
The group is ready to expand its economic cooperation with partners in key areas such as food production, power generation, the petro-chemical industry, mining, tourism, renewable and nuclear energy, trade, transportation, communications and training, according to the South African president.
The seventh BRICS summit, held last month in Russian city Ufa, reaffirmed the importance of BRICS in the global arena, Jacob Zuma said. He added that the summit's key achievement was the "entry into force of the New Development Bank (NDB) and the Contingent Reserve Arrangement."
READ MORE: BRICS/SCO summits at a glance: New Development Bank, Greece crisis, Iran oil
The NDB opened for operations in Shanghai on July 21 with a view to deploying $50 billion in initial capital to fund infrastructure and sustainable development projects. The world's major banks "see the BRICS bank as an important additional factor in global financial transactions," said Zuma. The establishment of NDB's African Regional Centre in Johannesburg is among the group's plans for the near future, he added.
READ MORE: BRICS bank opens for operations in Shanghai
At the end of July, the BRICS members kick started a $100-billion currecny reserve pool. It aims to protect their national currencies from volatility in global markets.
In 2010, South Africa became the latest and fifth member of the group, which was initially known as BRIC.