McDonald's axes 225 corporate jobs worldwide amid $300mn cost cuts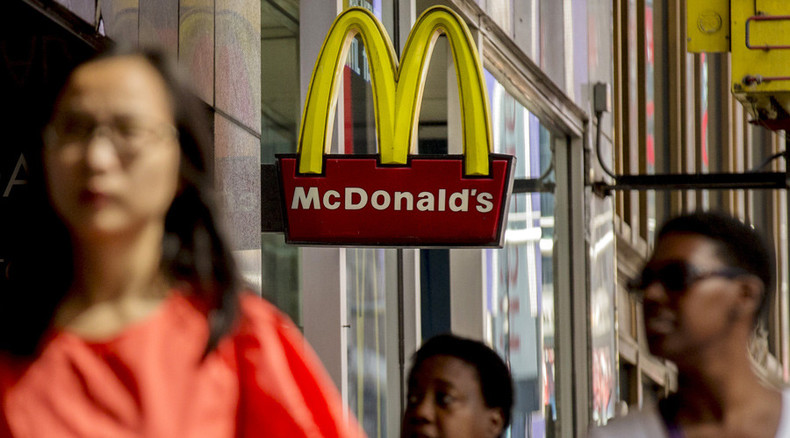 McDonald's announced it cut 135 employees in July at its US headquarters and 90 overseas. In May, Chief Executive Steve Easterbrook announced a goal to cut $300 million in costs by the end of 2017 to tackle declining sales and reset the fast food giant.
"We do not take decisions that impact jobs lightly, but we committed in May to implement meaningful changes to reset our business, remove layers and find cost efficiencies, and we are acting with a sense of urgency on that commitment," McDonald's spokeswoman Heidi Barker Sa Shekhem said in a statement.
The July cuts bring the total number of job reductions since the end of 2014 to more than 350. McDonald's cut 63 jobs in December and 65 more in January at its headquarters, according to spokesman Jeff Mochal.
READ MORE: McDonald's to close 700 locations as global sales slide
Easterbrook hasn't long been in charge as McDonald's CEO. His predecessor Don Thompson stepped down in January in the middle of food quality scandals, and the worst sales plummet in more than a decade.
Last month, McDonald's reported another drop in sales at US locations, the seventh straight quarter of losses with sales dropping 2 percent. Overall, the fast-food giant's profit declined 13 percent to $1.2 billion, down from $1.39 billion a year earlier.
During the second quarter, the company's sales rose 1.2 percent in Europe and fell 4.5 percent in the segment that includes Asia, the Middle East and Africa. As of global figures, the sales fell 0.7 percent.
McDonald's has made several attempts to boost its sales in 2015. The most recent was launching table service in Manchester. The company has also allowed clients to make their own burgers, announced it would stop using chicken raised with antibiotics, campaigned against deforestation and introduced a customer complaint app in Japan.
McDonald's is the world's second largest corporate employer after Walmart with 1.9 million workers. It has over 36,000 restaurants worldwide with some 69 million customers a day.