McDonald's to close 700 locations as global sales slide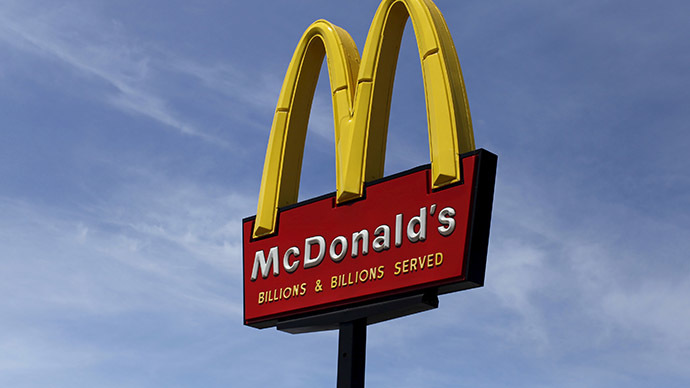 McDonald's will close 700 restaurants worldwide this year for the first time in four decades. Faced with declining sales and increased market competition, the company says it also intends to streamline management positions.
In the US, the closings will be a mix of franchises and company-owned restaurants, McDonald's spokesperson Becca Hary told the Associated Press. She said the closings are part of a strategic review intended to set the stage for future growth, but the reduction "would be minimal" in light of its total 14,300 locations in the US.
While the specific number and locations of the US closures hasn't been revealed, McDonald's did disclose in April that they would trim hundreds of restaurants worldwide from their balance sheet. The closures include 350 restaurants in the China, Japan and the US, in addition to 350 that have already been closed.
READ MORE: McDonald's to stop announcing monthly sales as profits plummet
The company's global comparison sales report for May showed that sales had increased 2.3 percent in Europe but declined in the US by 0.2 percent and by 3.2 percent in the Asia/Pacific/Middle East/Africa markets. The company's president and CEO, Steve Easterbrook, said at the time of the sales report that McDonald's has "embarked on a turnaround plan to reignite our business performance" through "great-tasting, high-quality food, compelling value and outstanding service."
McDonald's restaurants have been closed before if they were underperforming, but previously the number of closings has been outweighed by restaurant openings. The company did say they plan to open 300 new restaurants globally, but that won't be enough to counteract a contraction that is seen as emblematic of current troubles at the Golden Arches, which is trying to regroup. Easterbrook also said the company plans to remove layers of bureaucracy and move more nimbly.
The company enjoyed rapid expansion for much of its history by offering consistent food at affordable prices. It even thrived during the recession, when its Dollar Menu drew in people trying to save money, and when new products like McCafe coffee drove up sales.
READ MORE: McDonald's turnaround plan could back pedal on minimum wage increase
While the US' largest burger chain still leads the fast-food industry, coming in ahead of Burger King, Wendy's, Taco Bell and KFC, it is facing competition from newer eateries like Shake Shack and Five Guys, as well as places where customers think the food is fresher, like Chipotle Mexican Grill and Panera Bread.
Worldwide, McDonald's has 36,000 restaurants serving 69 million customers in 100 countries. Of the thousands of restaurants, 80 percent are franchise-owned. Its first quarter earnings for 2015 were $5.96 billion globally. Last year's global sales were $27 billion.
You can share this story on social media: