Greek stocks continue free fall, Tsipras says bailout talks on 'final stretch'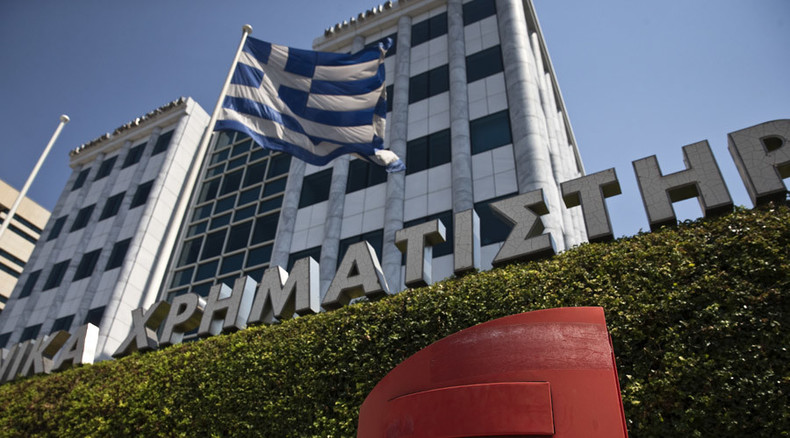 The bloodbath on the Greek stock market continued for the third day in a row, after the exchange reopened following a five-week shutdown. The Greek banking sector has led the rout, which has wiped out half their value this week.
Piraeus Bank, Eurobank and Alpha Bank sank almost 30 percent as of 12:30 GMT, while the National Bank of Greece plunged 25.62 percent.
The four banks – National Bank of Greece, Piraeus Bank, Alpha Bank, and Eurobank – account for 91 percent of Greek banking assets.
Athens Stock Exchange General Index (ASE) was losing 4.33 percent, after closing at its lowest level since September 2012 on Tuesday. Monday's plunge was the worst in 30 years for the ASE.
The Greek banks' index is showing its most parlous result since 1995. Greek stocks have lost more than 88 percent of their value since 2007.
As the market continues to fall, feathers are being ruffled in Athens over the €86 billion bailout negotiations with creditors. Greek authorities are insisting on unlocking €25 billion as a first installment, while the creditors want to give Athens a small bridging loan to make a €3.2 billion bond repayment to the European Central Bank on August 20. This is unacceptable to Greece, which refuses to adopt new reforms in exchange for a bridging loan, says Nikos Filis, parliamentary spokesman for Tsipras's Syriza party.
The Greeks are aiming to wrap up the talks by August, 18, two days earlier than was announced earlier.
The Athens Stock Exchange was shut down from June 29 to August 2, 2015. The Greek government, trying to limit a run on capital, declared bank holidays and imposed restrictions on cash withdrawals and transfers abroad.