Russian ruble hits 60 against US dollar, close to erasing 2015 gains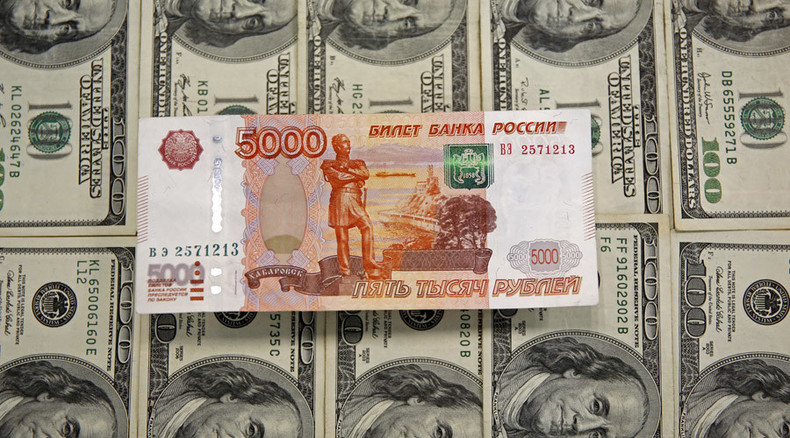 For the first time since March, the Russian ruble fell to 60 against the dollar. The ruble has been performing weakly against the euro too, tumbling to 66.5. Falling oil prices and the stock market crisis in China are key factors.
This summer's downward trend for the ruble is likely to cancel its excellent performance in the first five months of the year. After winning back some 24 percent against the dollar from the beginning of the year till mid-May, the Russian currency has fallen over 18.5 percent since then and is close to last December's figures.
The ruble rate keeps on changing in sync with the oil plunge; though some key Russian policymakers have insisted the currency's correlation to the oil price is over.
Crude prices have fallen 16 percent in July with Brent crude trading at $52.89 per barrel on Tuesday, while on June 30 a barrel of Brent cost more than $63.
Some big players in the market have a negative outlook on the crude, considering the recent fall. Bank of America Merrill Lynch on Tuesday predicted $50 per barrel for Brent and $45 for WTI barrel for the third quarter. The previous forecast was $54 for Brent and $50 for WTI. Morgan Stanley warned last week the fall in oil prices could be the worst in 30 years.
On Monday, the Chinese stock market fell by 8.5 percent, an eight-year record fall, which also pulled oil prices lower. Bad economic data from China, the world's biggest energy consumer, signals demand will further go down.
Another factor likely affecting the rollercoaster ruble is Wednesday's announcement on US interest rate policy by the Federal Reserve. It is widely expected by market participants that the outcome of the meeting will signal the imminent change in US monetary policy.
The Fed has been following a policy on low interest rate since 2008, keeping its key rate now at a record low of 0.25 percent.To increase the rate, the US is waiting to get enough evidence its economy is robust enough, with a 2 percent inflation rate being one of the benchmarks.
The ruble's decline makes the previously expected 0.5 percent cut in the key interest rate in Russia highly unlikely. The Central Bank of Russia (CBR) meets on July 31, where it'll have to make a difficult choice between the need to stimulate economic growth in the country and support the ruble.
After hiking the rate to 17 percent last December at the peak of the currency crisis, the bank has been pursuing a policy of steadily cutting the rate, bringing it down to 11.5 percent in June.
You can share this story on social media: