Alleged Greek $10bn plea to Putin for printing drachma not true – Kremlin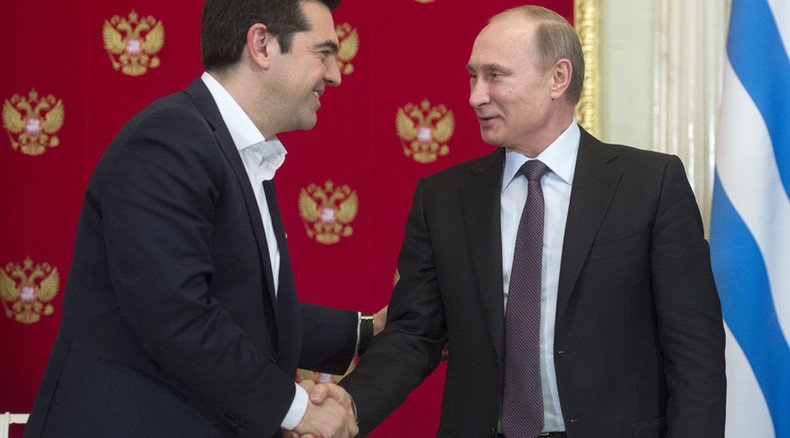 The Kremlin has denied Greek newspaper reports that Prime Minister Alexis Tsipras had asked President Putin for $10 billion to print drachma. Presidential spokesman Dmitry Peskov says Russia has never been asked for aid.
The Greekreporter website cites a report in To Vima newspaper that claims Tsipras vainly sent similar requests to Tehran and Beijing, while Russia vaguely mentioned a $5 billion advance for the Turkish Stream pipeline project through Greece, according to the source.
Russia was quick to react, with Peskov saying Wednesday that Greece hasn't approached Russia for money and that has been confirmed at different levels.
Putin: Where was EU when Greek crisis was evolving?
Prior to the July 5 referendum, where 61 percent of Greeks voted against austerity, Putin informed Tsipras Moscow didn't support a return to the drachma. This led to last week's €86 billion bailout agreement with the Troika of creditors, as Greece had no other choice, the source says.
According to the article highlighted by the Greek media Tsipras had been thinking of returning to the drachma since the beginning of the year, when his leftist Syriza party came to power, and was seeking support from Moscow to pull off the deal.
The media report also said that former Finance Minister Yanis Varoufakis, former Energy Minister Panagiotis Lafazanis, the leader of right-wing coalition partner Independent Greeks and Greece's Defense Minister Panos Kammenos, the PM's senior aide Nikos Pappas, and other key figures in the government, knew about Tsipras' plan.
READ MORE:'I wish we had drachma, never entered monetary union' – Greek finance minister
Varoufakis, Lafazanis and Kammenos were among those who voted against the agreement that Tsipras reached with creditors.
Tsipras' visit to Russia in April, where he showed support for Moscow in its dispute with Europe over Ukraine, also hinted to Germany that Greece was ready to form new coalitions and thus threaten the eurozone, the report continues.
When Tsipras was giving his last major interview to Greek national broadcaster ERT, he said that "in order for a country to print its own national currency, it needs reserves in a strong currency."
Seventeen opposition New Democracy MPs sent a letter to Tsipras aiming to find out whether the allegations are true, says Greek Reporter.
The report comes at a time when the issue of Greece leaving the euro seems to be in the past. The €86 billion deal reached between Athens and the troika of international creditors last week means that the country will remain a eurozone member, provided it complies with all the reform requirements, including increased taxes and retirement age. However, a final stamp on the agreement is expected by the end of August, after Greece agree the reform agenda in its Parliament and all of its EU partners ratify the deal.
You can share this story on social media: