ECB increases emergency funding for Greek banks by €900mn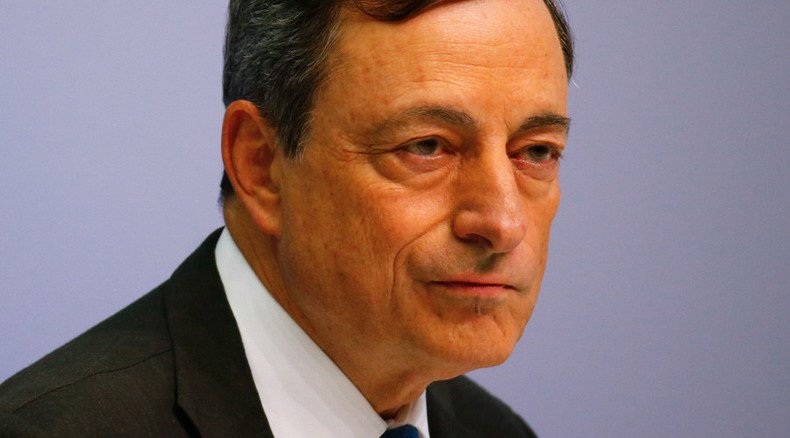 The ECB has raised Greece's emergency liquidity assistance (ELA) by €900 million for a week, said the ECB head Mario Draghi. The decision comes after the multibillion euro bailout plan was agreed by the Greek government on Wednesday.
"Things have changed now. We had a series of news with the approval of the bridge financing package, with the votes, various votes in various parliaments, which have now restored the conditions for a raise in ELA," Draghi said.
Draghi: Increased ELA 900 mln over one week

— ECB (@ecb) July 16, 2015
READ MORE:Banks in Greece to reopen on July 17- Finance Ministry
Until Thursday the ELA stood at €89 billion. The ECB's refusal to expand the assistance was one of the reasons Greek banks went on holiday on June 29. On Wednesday, the Greek Finance Ministry announced the banks would reopen this Friday, July 17.
Draghi said that recent developments allowed for an expansion of the ELA. Defending the ECB policy, he said the euro system has given Athens more money than it has in deposits, €130 billion vs. €120 billion.
Draghi: Total exposure to Greece now 130 bn

— ECB (@ecb) July 16, 2015
The ECB is sure that Athens would repay $3.5 billion on July, 20, said Draghi.
"We always acted on the assumption that Greece will remain a member of the euro area," Draghi said. "There was never a question."
There was no doubt that the Greek debt should be relieved, said Draghi, adding that the question now is to find a way that'll comply with the existing laws.
Draghi: uncontroversial debt relief is necessary

— ECB (@ecb) July 16, 2015
The ECB decision comes after eurozone ministers agreed to extend a €7 billion bridging loan to Greece on Wednesday.
READ MORE: EU offers Greece €7bn bridge loan for July, if Athens adopts reforms – media
On Thursday the Greek Parliament adopted the austerity measures that came as a precondition for talks on an aid package of as much as €86 billion.
The head of the European Stability Mechanism (ESM) Klaus Regling said on Thursday that Greece could be allocated about €50 billion, which is more than a half of the total 3-year assistance from the Troika estimated at €82-86 billion.
Watch the full Draghi news conference.
You can share this story on social media: