Banks in Greece to reopen on July 17- Finance Ministry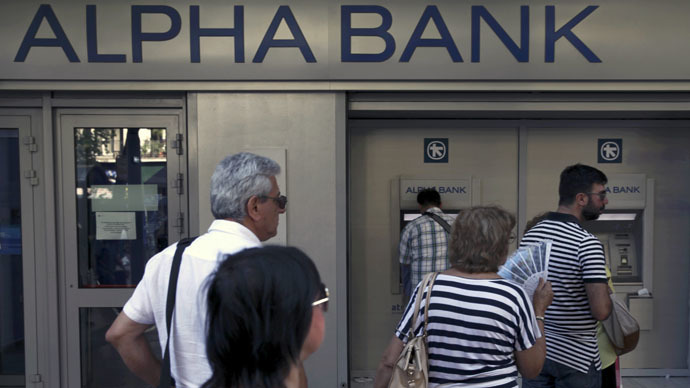 The so-called 'bank holidays' in Greece will last until Friday, the country's Finance Ministry has said. The announcement comes just hours ahead of Wednesday's vote in the Greek parliament on a third bailout package.
Along with the banks' opening there will be an extended list of permitted banking operations. It will be possible to repay the debts to the government, public enterprises, public pension funds and private insurance companies, either in cash or by transfer of funds from a bank account, the ministry said Wednesday.
READ MORE: IMF: Greek debt 'unsustainable,' Europe should give relief – report
The transfer of funds from one account to another within the same bank would be possible as well. Pensioners and the unemployed, who don't have debit cards, will receive €120 in cash every two weeks, the ministry said.
A special commission will be also be formed to approve certain money transfers, necessary for such transactions as payment of medical expenses, or the import of pharmaceuticals, foodstuffs, raw materials and fuel.
The finance ministry's announcement comes after Greek Prime Minister Alexis Tsipras said Tuesday on Greek public television that the "reopening of the banks depends on the sanctioning of the deal, which will take place in a month."
He also expressed hopes that the ECB would raise the level of emergency liquidity assistance (ELA) for the country's banks. On Monday, the European Central Bank decided to maintain the ELA at €89 billion.
READ MORE: No to 'EU colony': Tsipras faces opposition from govt & people against bailout deal
Banks in Greece have been shut for already 2 weeks as the government imposed capital controls with daily ATM withdrawals limited to €60 ($66) per day.
The Greek parliament is to vote on a new deal with the eurozone. The parliament needs to approve all of the laws implementing the reforms by an EU-imposed deadline of July 15 in order to receive billions of euro in aid.
The deal has been strongly opposed within the Greek government and caused protests on the streets. The new bailout deal includes a program which is expected to affect overall pension reform, reform of the product markets, privatization and changes in labor laws.

READ MORE: Greek crisis endgame: EU agrees to allocate €80bn+ over 3 years
On July 13 after 17 hours of marathon talks, Athens and the eurozone leaders managed to reach an agreement over a third three-year bailout for Greece worth around €82-86 billion.
The €86 billion program will not save Greece from financial collapse, taking into account its growing financial needs, the IMF projected in a confidential report obtained by Reuters. The country's debt situation is "unsustainable," and European creditors should either write down a massive amount of Athens' debt or give Greece a 30-year grace period if they want it to recover and repay, the fund was cited.