​Athens extends 'bank holidays' as ECB keeps its emergency aid limit unchanged - source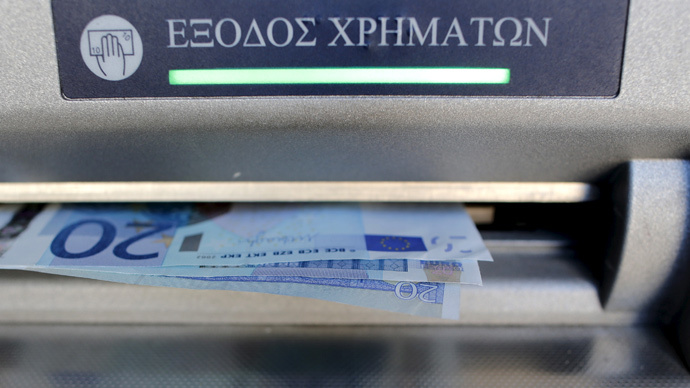 Banks in Greece will remain closed and the €60 per day limit on cash withdrawals will remain in place, according to a Greek finance ministry official. The ECB has refused to increase its emergency liquidity assistance to banks from current €89 billion.
The source didn't specify when the banks will reopen, TASS reported Monday.
"I can't say how long the banks will stay closed. It all depends on the European Central Bank," the representative of the Ministry of Finance of Greece said.
READ MORE: Greek crisis endgame: EU agrees to allocate €80bn+ over 3 years
The decision was announced after Athens and the eurozone leaders hammered out an agreement on Monday on a third three-year bailout for Greece worth around €82-86 billion.

READ MORE: 'Bank holiday': Greece expands bank & capital limits till end of week
The Financial Times reported a warning last week from the head of Greece's banking association Louka Katseli that the banks had cash guaranteed only till Monday, July 13. She added that the situation in the country's banking system would normalize if Athens reaches a deal with creditors.
Banks in Greece have been closed for the past two weeks after the government imposed capital controls. Daily ATM withdrawals have been limited to €60 ($66) per day. These measures were taken to prevent a massive deposit outflow that started on fears that Greece could leave the euro and potentially turn to its own currency.
You can share this story on social media: