'Bank holiday': Greece expands bank & capital limits till end of week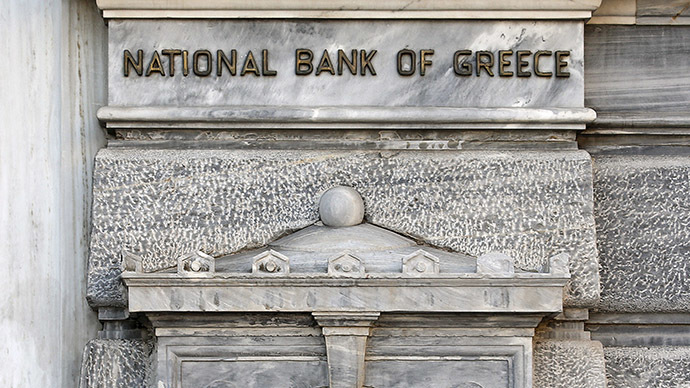 Greek government has ruled to prolong the period of imposed capital controls and bank closures till July 10. It comes as the ECB continues to provide emergency financial support to Greek banks.
Capital transfer controls, bank closures and a daily ATM withdrawal limit of €60 ($66), introduced last Monday, saw another renewal – this time, until Friday, the press service of the Ministry of Finance told Bloomberg. In fact, it means that the banks will be on holiday until Monday, as they are usually closed on weekends.
READ MORE: Greek creditors have Grexit scenario 'prepared in detail'
Meanwhile, the European Central Bank (ECB) has promised to keep to the current level of its emergency liquidity assistance (ELA) to Greek banks, which is estimated at €89 billion ($99 billion), according to Bloomberg.
#ECB said to leave cap on Greek emergency bank aid unchanged, BBG reports. pic.twitter.com/MO0WXQ5P2X

— Holger Zschaepitz (@Schuldensuehner) July 8, 2015
On Monday, the ECB is set to reexamine the possibility to change the ELA conditions to help escape the collapse of the Greek financial system. Yet, its generosity "could increase the risk of moral hazard on the side of financial institutions or responsible authorities," according to an ECB statement.
READ MORE: Greece asks for new 3yr loan, promises reform plan on July 9
On Thursday, Greece plans to reveal its measures, aimed at the modernization of the country's economy.
"The Greek government will on Thursday 9 July at the latest set out in detail its proposals for a comprehensive and specific reform agenda for assessment by the three institutions to be presented to the Eurogroup," said new Greek finance minister Euclid Tsakalotos.
In June, panicking Greeks withdrew over €3 billion in deposits from local banks just in three days' time. According to data from the Bank of Greece, in the period between October and April an estimated €30 billion was taken out of country's banks.
You can share this story on social media: