Greek banking system to collapse without 3rd bailout – ESM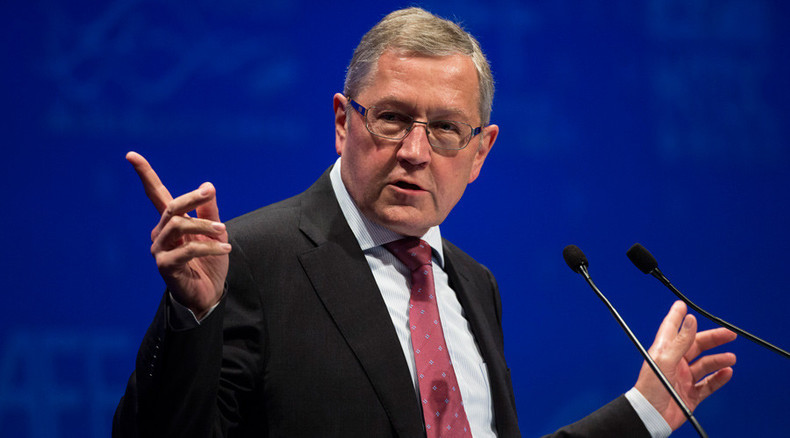 The head of the European Stability Mechanism (ESM) has warned of an imminent collapse of the Greek financial system if Athens skips on the 3rd bailout agreed with its creditors on Monday. This would have impact on the entire eurozone, too.
"If everything should fail, then the Greek banking system will collapse. If the four biggest systemically relevant banks in a country no longer work, this has grave consequences not just for Greece…but also for the whole eurozone," Klaus Regling, head of the European Stability Mechanism (ESM), told German broadcaster ARD, quoted by Reuters.
The four banks – National Bank of Greece, Piraeus Bank, Alpha Bank, and Eurobank – account for 91 percent of Greek banking assets.
Greece could be granted about €50 billion through the European Stability Mechanism (ESM) from the third aid package worth €82-86 billion, but no precise figures could yet be given, he added.
Regling's interview comes as the Greek government voted in favor of the third bailout package that demands further austerity measures from Athens.
READ MORE: Greek MPs approve reforms for new EU bailout

The package of measures, which needed parliamentary approved to renew talks on the new multibillion euro bailout, was passed with 229 votes for and 64 against.
The talks on the Tsipras' agreement with the Troika opened up divisions in the ruling Syriza party. The bill demands tax hikes, an increase in the retirement age, cuts in military spending and pension reforms, and was regarded by many Syriza members as contradicting the results of the July 5 referendum, in which over 61 percent of the Greeks voted against the previous terms of the bailout deal with the Troika.
Among the 39 Syriza members who voted against austerity was former Greek Finance Minister Yanis Varoufakis, who said the bailout deal was "a new Versailles Treaty," the agreement that demanded huge reparations to be paid by Germany after its defeat in World War One.
Greek Deputy Finance Minister Nadia Valavani resigned on Wednesday prior the vote. Greek Energy Minister Panagiotis Lafazanis said he supports the government, but can't vote in favor of the bailout. Among those MPs who voted against the plan were Deputy Labor Minister Dimitris Stratoulis and speaker of the parliament Zoe Constantopoulou.
On Thursday the European Central Bank will meet to decide whether to increase the emergency liquidity assistance (ELA) for Greek banks. The current ELA is €89 billion.
READ MORE: Banks in Greece to reopen on July 17- Finance Ministry
The last time the ECB refused to expand the ELA, Greece extended bank holidays. On Wednesday, the finance ministry promised to reopen banks that have been closed since June 29, on Friday.