Greek MPs approve reforms for new EU bailout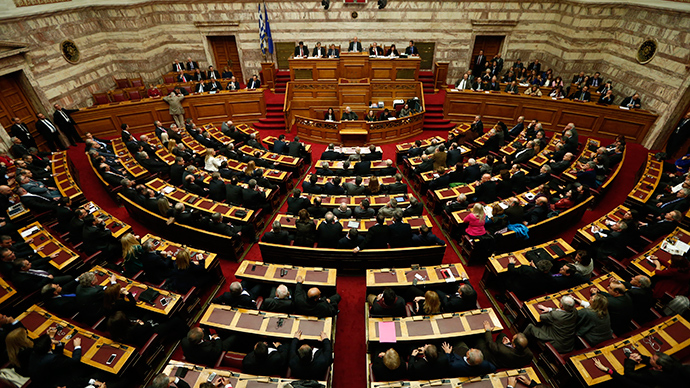 The Greek parliament has voted in favor of a bill enacting the reforms required by its European creditors as part of a new bailout plan. This paves the way for the controversial 85-billion-euro bailout deal defended by Prime Minister Alexis Tsipras.
READ MORE: EU offers Greece €7bn bridge loan for July, if Athens adopts reforms – media
An overwhelming majority of Greek MPs voted in favor of the reform package, with 229 voting 'Yes,' 64 voting 'No' and 6 abstaining. This is despite a notable rift in the ruling party; 39 Syriza MPs spoke against the measures supported by their leader. The name of every member of the parliament was called, and their votes publically noted.
Final result of vote on prior actions in Greek Parliament: 229 Yes, 64 No, 6 abstentions & 1 absent #Greece

— Kathimerini English (@ekathimerini) July 15, 2015
Syriza loses 39 out of his 149 votes. #Greece

— Yannis Koutsomitis (@YanniKouts) July 15, 2015
The bill imposes tough economic measures, including tax hikes, an increase in the retirement age, spending cuts, as well as a pension reforms.

The new austerity package was required by European lenders as part of a third bailout plan agreed upon with Tsipras after tough negotiations in Brussels. Tsipras was given until Wednesday to convince the Greek parliament to vote in favor of the measures.

While saying he himself "does not believe in" the new "irrational" bailout/austerity plan, Tsipras lobbied for accepting the reforms, arguing that leaving the eurozone and going bankrupt would be a far worse option for Greece. He stressed that the choice was "imposed" on the Greek delegation by its European creditors, and claimed that they had managed to win milder terms for the deal.
READ MORE: Tear gas v petrol bombs: Clashes mar massive Greek protest against bailout deal
Critics see the new deal as contradicting the results of the July 5 popular referendum, in which over 61 percent of the Greek population voted against the previous terms of the bailout deal with the ECB, EC and IMF. While, at the time, Tsipras told his people their votes would help strengthen Greece's negotiating position, European officials said it had only made matters worse for the Greek side.

Those rejecting the third bailout point to the fact that Greece, which is suffering from a 25 percent unemployment rate, has had enough of austerity measures under the previous deals – and those did not help its economy to recover.
READ MORE: Greek deputy finance minister resigns over debt deal
Among those MPs who voted against the plan are the Greek Energy Minister Panagiotis Lafazanis, former Finance Minister Yanis Varoufakis, Deputy Labor Minister Dimitris Stratoulis, and speaker of parliament Zoe Constantopoulou.

A massive anti-bailout protest started Wednesday in Athens on a square in front of the parliament, with police estimates putting the number of protesters at 12,500. The rally, which was held ahead of the parliamentary vote, was marred by clashes after some protesters began hurling Molotov cocktails and rocks at police. Officers responded by deploying tear gas against the crowd.
READ MORE: Beat the dog before the lion: Varoufakis accuses Schauble of sacrificing Greece
READ MORE: IMF: Greek debt 'unsustainable,' Europe should give relief – report
The agreement on a massive rescue plan for the Greek economy, worth €82-86 billion, was reached on Monday after 17 hours of tough, marathon negotiations between Athens and European leaders.

However, even before the deal was preliminary sealed, the parties to the negotiations had been aware that new IMF projections claim Greece's debt situation is "unsustainable" and the bailout package cannot save its economy. The IMF analysis was set out in a confidential report first leaked to Reuters. The IMF, which says it would not step in to help Greece until its debt situation is satisfactory, has called on European creditors to offer Athens a debt relief and/or a 30-year grace period.
You can share this story on social media: