Tear gas v petrol bombs: Clashes mar massive Greek protest against bailout deal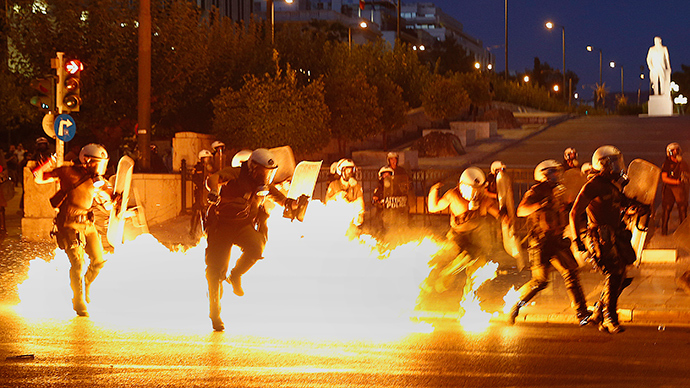 Clashes have erupted outside the Parliament in the Greek capital. Police have deployed pepper spray and tear gas against protestors hurling Molotov cocktails and rocks during an anti-austerity rally attended by thousands.
Riot police used pepper spray and tear gas to suppress a large crowd of people, who began hurling Molotov cocktails and rocks at police officers. Earlier, police estimated the number of anti-austerity protesters at Syntagma Square at about 12,500 people.
The clashes broke out as the Greek parliament began to debate an austerity bill requiring consumer tax increases and pension reforms.
Athens protesters set TV van on fire to make it clear they are against the bailout deal (and that Cable Company) Courtesy: RuptlyPosted by RT Video on 15 Июль 2015 г.
Gas and stun grenades litter syntagma square pic.twitter.com/gpwD5mzTVZ

— Daniel Hawkins (@DanhawkinsDh) July 15, 2015
A journalist was shot in the leg during the scuffles, Skai TV-channel reported. RT's Daniel Hawkins also reports spent gas and stun grenade canisters littering the square in front of the parliament.
Some 50 protesters have been detained, according to AP. Media say the protesters behind the clashes are anarchists.
Later, AFP reported about four police officers and two French photo correspondents who were injured during the clashes.
Athens now pic.twitter.com/S119KOOYtI

— *Russian Market (@russian_market) July 15, 2015
Throughout the day on Wednesday, thousands of people marched along the streets of Athens in more or less peaceful demonstrations carrying banners reading "Cancel the bailout!" and "No to the policies of the EU, the ECB and the IMF."
LIVE: Protesters lob molotovs police respond with tear gas at Athens anti-austerity rally http://t.co/1sM8s2F2Tfpic.twitter.com/wFjGY3Va8N

— RT (@RT_com) July 15, 2015
They were protesting against a new bailout deal with European creditors which, if passed, will lead to a series of reforms bearing heavily on the Greek economy. Greece is already suffering from an unemployment rate of 25 percent.
READ MORE: Greek pharmacists & civil servants launch 24hr strike, protesting austerity measures
WATCH LIVE: Riot police clash with protesters at anti-#austerity rally in Athens http://t.co/1sM8s2F2Tfpic.twitter.com/K7ofmoScF8

— RT (@RT_com) July 15, 2015
Melina Kotaki, a 71 year-old protester holding a sign reading "Merkel and Schäuble never again will you fly the Nazi flag on the Acropolis," told Reuters that "It's an allegorical reference to what happened in the war. We have a government that doesn't understand Germany wants to destroy Europe again."
Frontline view from #Athens disturbances continuing #Greecepic.twitter.com/I8kTK65ASh

— Daniel Hawkins (@DanhawkinsDh) July 15, 2015
Finance Minister Euclid Tsakalotos, though defending the bailout terms, said that Monday, the day the agreement was announced, had been "the hardest day of his life," Reuters reported from the Parliament.
Syriza MP Dimitris Vitsas said that he didn't want "to speak in favor of the bill but about the necessity of passing it." About 30 to 40 members of Prime Minister Alexis Tsipras' left-wing party Syriza are expected to vote against the legislation.
Tsipras accepted the bailout deal this week during negotiations in Brussels thus escaping for now the possible ejection of the country from the eurozone.
Now, Greece faces a deadline for €3.5 billion payment to the European Central Bank on July 20, having already missed two deadlines. European finance ministers have proposed a €7 billion loan from the European Financial Stability Mechanism (EFSM), backed by all 28 members of the EU, that could partly be used to cover the loan.
You can share this story on social media: