Russia mulls direct energy supplies to Greece in near future - energy minister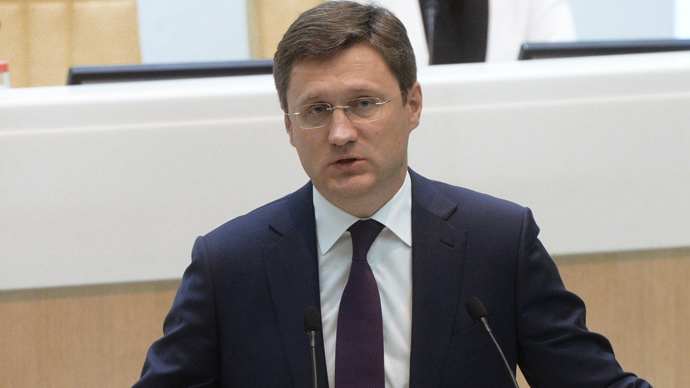 Moscow is considering direct energy supplies to Greece, Russia's Energy Minister Aleksandr Novak has said, adding that the country wants to help Greek recovery by expanding economic cooperation.
"Russia intends to support the recovery of the Greek economy by increasing cooperation in the energy sector. Therefore we are looking into options for facilitating direct energy supplies to Greece in the near future," the minister said.
According to Novak, the Russian Energy Ministry is planning to come to an agreement on energy supplies to Greece "within weeks."
The potential of Russian-Greek relations was speculated on in June on the sidelines of the St. Petersburg International Economic Forum. Minister of Economy, Infrastructure, Shipping and Tourism Giorgos Stathakis said these relations have "a lot of potential" and will develop further once "problems" between the EU and Russia have settled down.
READ MORE: Russian-Greek relations have 'a lot of potential' – Greek Economy Minister to RT
The head of the Greek Foreign Ministry's economic relations department, Giorgos Tsipras, echoed Stathakis' words when asked about Russian-Greek cooperation. He called the St. Petersburg Forum "a new beginning for economic relations between Russia and Greece."
"The new government means that we will have more a multidimensional foreign policy and economic foreign policy and Russia is one of the countries that we will have for more relationships with," he told RT.
READ MORE Russia, Greece sign €2bn deal on Turkish Stream gas pipeline
During the St. Petersburg Economic Forum, Moscow and Athens signed a deal to create a joint enterprise for construction of the Turkish Stream pipeline across Greek territory. The pipeline will have a capacity of 47 billion cubic meters per year and its construction cost is estimated at €2 billion.
READ MORE: Putin: Where was EU when Greek crisis was evolving?
Russia has repeatedly said it is able to provide financial help for any foreign state, including Greece, but Athens hasn't asked for it.
"Greece is a member of the EU and is conducting complicated negotiations with its partners. Mr Tsipras didn't ask us for any help. And in general, it's understandable because the numbers [of the Greece debt] are high," Russian President Vladimir Putin said on Friday during the BRICS/SCO summits in the Russian city of Ufa.
READ MORE: Eurozone leaders to meet 'to conclude talks on Greece,' EU summit cancelled
Athens' debt now stands at €316 billion. After failing to repay €1.6 billion ($1.76 billion) to the IMF by the July 1 deadline, Greece became the first developed country to default on its international obligations.
You can share this story on social media: