Greece deal failure will hurt everybody - EC president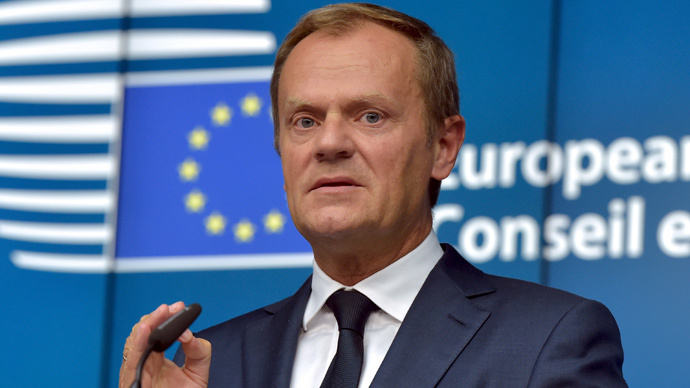 The failure of negotiations with Greece will affect everyone, European Council President Donald Tusk said on Wednesday. He reiterated that the deadline for Greece to present a new reform plan expired this week.
Tusk said that a deal not being reached in Greece could lead to its bankruptcy, adding that all parties would suffer if no compromise is found in the next four days. He emphasized that there should be no illusions about that.
Inability to find agreement may lead to bankruptcy of #Greece & insolvency of banking system. Everyone will lose

— Donald Tusk (@eucopresident) July 8, 2015
All parties are responsible for the crisis and have to find a resolution together, Tusk said Wednesday addressing the European Parliament in Strasbourg.
Speaking at the same meeting, Greek Prime Minister Alexis Tsipras promised to present concrete proposals within the next two days.
READ MORE: Greece pushes for 'socially just' agreement by week's end
"I want it clearly understood: the proposals of the Greek government on financing its obligations and debt restructuring won't come as a new burden for a European taxpayer," he said.
"Let's be honest the money that was given to Greece has never reached the Greek people, that was the money to save Greek and European banks," he added.
He also said his country needed a solution that will allow it to see "the light at the end of the tunnel," adding that Greece was committed to reforms.
"We'll continue reforms, we want an agreement with our European partners, one which will really help Greece to come out of the crisis," Tsipras said.
Tsipras reiterated that Greece was against clashes with Europe and was ready to solve the problem, but it was the eurozone that was "pouring fuel" on the current crisis.
Recently Greece became an "experimental laboratory" for implementation of the austerity policies, but the experiment has failed, Tsipras said. The referendum showed there's need to find a decision, without repeating the past mistakes that led to the crisis.
On Tuesday, Tsipras had an emergency meeting with the eurozone leaders, following the Greek referendum and IMF debt default. The Greek prime minister said that Greece had submitted its ideas for an agreement with creditors and that negotiations on debt restructuring will conclude by the week's end. Eurozone partners, however, claimed Athens was unprepared without any new comprehensive proposals. The roadmap presented by Tsipras urges an EU commitment to the coverage of Greece's financial needs.
On Sunday Greeks voted against the eurozone austerity bailout proposals. Last week the country failed to repay €1.6 billion to the IMF, becoming the first developed country to default on its international obligations.
You can share this story on social media: