Ukraine's public debt to hit 95% of GDP by year end – National Bank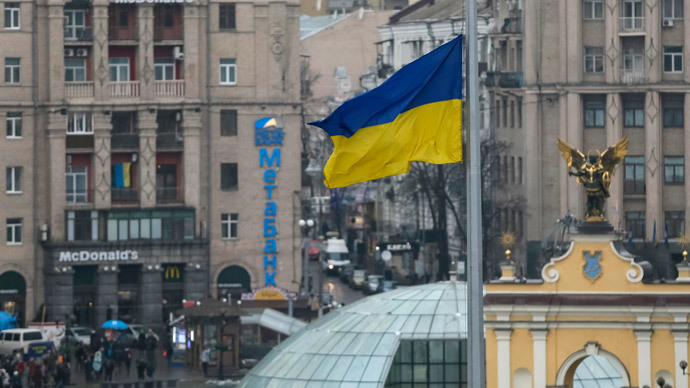 The National bank of Ukraine predicts that the country's sovereign debt will reach 95% of gross domestic product by the end of 2015.
Ukrainian's total public debt is expected to reach 95% of GDP by the end of 2015. The biggest increase in Ukraine's debt so far occurred in the first quarter due to currency rate devaluation, according to the report by the National Bank.
The country's public debt as a percentage of GDP hit a peak during the first quarter, increasing by 38.5% up to 1.524 trillion hryvnas ($72.4 billion), as Ukraine's national currency fell in value by 70%. The percentage has backed off somewhat since then due to the government's debt policy, which saw the rate for the hryvna rise. In March the debt fell by 5.5% followed by a further 7% drop in April
Kiev hopes to receive $1.7 billion from the IMF in exchange for implementing austerity measures required in order to pass the fund's first review of the financing program.
READ MORE: Kiev pledges reforms to secure extra $1.7bn loan from IMF
Apart from dealing with the public debt, the Ukrainian government also has to reduce budget deficits and provide financial assistance to the state owned Naftogaz Company, whose spending outpaces revenues.
The report calls Naftogaz "a substantial risk factor" as it needs financial support in an amount equivalent to 3% of GDP due to the company's arrears in public payments and significant budget deficit.
Naftogaz also ceased purchasing gas from Russia as of Wednesday because it insisted the current price (already discounted) was too high and demanded a larger discount. Russia called this demand "groundless."
READ MORE: Ukraine to stop buying Russian gas after talks on new deal fail
Kiev must pay $120 million to its creditors by the end of July. However, Ukrainian Finance Minister Natalie Jaresko said the country might face difficulties making the payments, implying the possibility of default.
Ukraine already managed to avoid a default on June 22, as it managed to pay the interest on its 2013 Eurobonds, which amounted to $75 million.
READ MORE: Gazprom halts gas deliveries to Kiev – CEO Miller
You can share this story on social media: