​World Bank urges China to hasten reform of 'distorted' state-dominated financial sector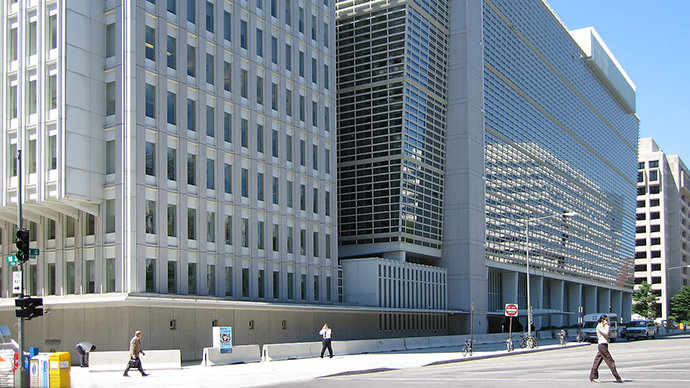 Beijing needs to quicken financial sector reform. The model of "the traditional investment-driven growth shaped by heavy state intervention" has started slipping, says the World Bank report. This could overshadow 30 years of "stellar performance".
The problems of "wasteful investment, over-indebtedness, and a weakly regulated shadow-banking system" are high on the agenda, according to the World Bank report published Wednesday.
The Bank provides figures to show how the Chinese state continues to totally control banks and other financial institutions. The state is de-facto controlling 95 percent of the assets, according to the data. This is compared to almost 74 percent state control in India and 41 percent in Russia.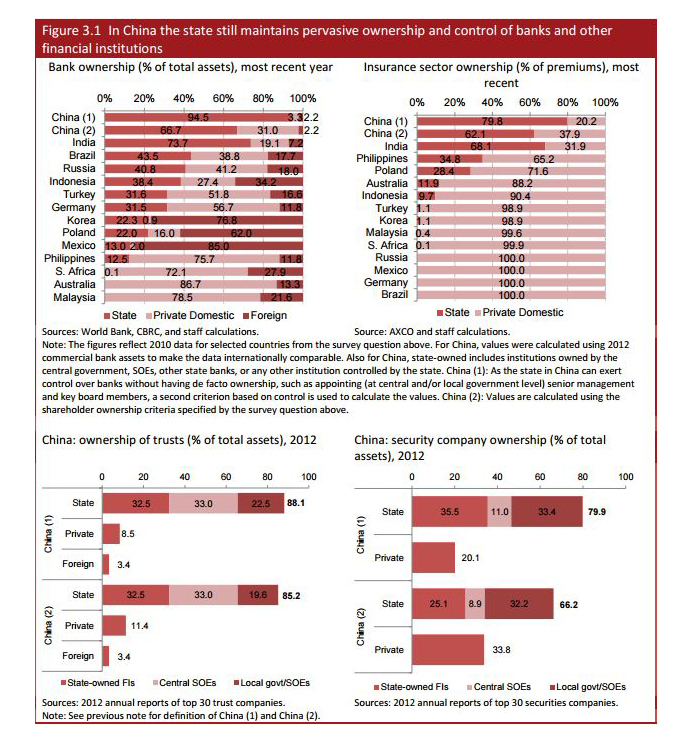 Karlis Smits, a senior economist at the World Bank and lead author of the report, warns of the potential dangers from a sharp correction in the Chinese stock market bubble.
"Asset price corrections are one of the risks to the growth outlook. That would undermine consumption if there's significant volatility or a correction," Smits told the Financial Times.
READ MORE: Chinese stock market bubble hits record $6.5tn – Bloomberg
China's stock market has been losing steam, falling about 22 percent since touching its 7-year high on June 12. The preceding market boom made global investors warn of a bubble that could soon burst. The Chinese stock market hit a value of $6.5 trillion in 2014, with Shanghai shares growing 152 percent and Shenzhen up 185 percent over the year.
The World Bank repeats the wording of its China 2030 Report of 2012. The Chinese financial system is referred to as "unbalanced, repressed, costly to maintain, and potentially unstable."
GDP growth in China will slow down to 7.1 percent in 2015 and to 6.9 percent by 2017, says the World Bank.
The need for reform is connected with better allocation of credit. "The old investment-driven growth model" has become less effective, the government should reallocate the credit to sectors that are ready to show "reasonable growth over the medium-term."
Beijing's target for 2015 is 7.0 per cent growth in GDP. This figure may become unfeasible, as the country's economy showed its slowest quarterly growth since the global financial crisis in 2008 in the first quarter of the year.
Weaker foreign trade is one of the reasons for the slowdown. For example, turnover with the European Union, China's biggest trade partner, fell by 7.1 percent during the January-May period.
However, the report also acknowledges the reforms made by Xi Jinping's Communist Party to give the markets a more important role in capital movement. A Central Leading Group to Deepen Reforms (CLGDR) initiatives has already produced crops (see the table below).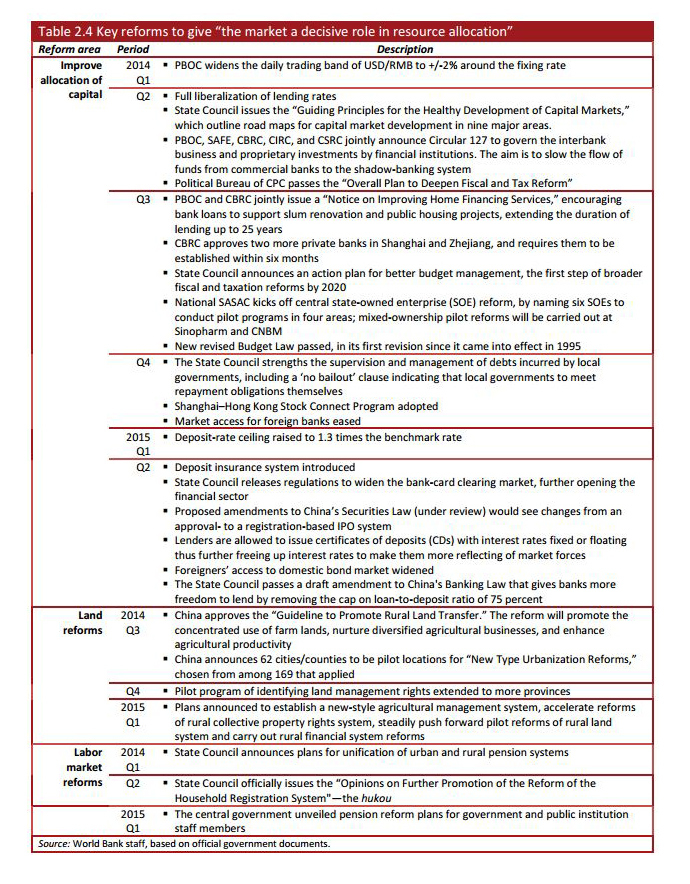 You can share this story on social media: