​Canada approves sale of Cirque du Soleil to US and China investors for $1.5bn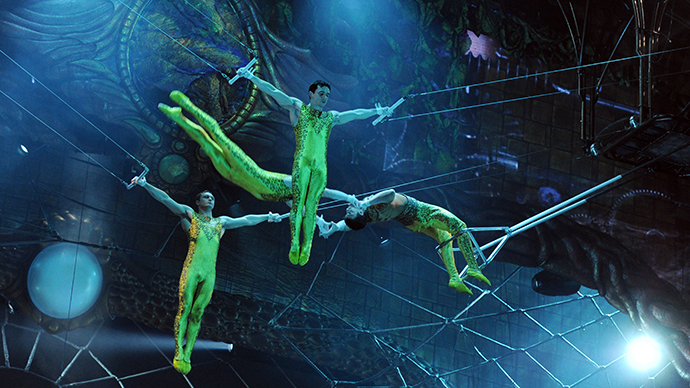 The sale of Cirque du Soleil will see US-based TPG Capital with 60 percent, and Chinese partner Fosun with 20 percent. The remaining shares will be divided between one of the founders Guy Laliberte and Quebec pension fund Caisse de Depot, reports AFP.
Canadian Industry Minister James Moore has confirmed the deal on the government-owned attraction.
The sale would benefit the country economically, while Canadians would save key positions in the company, he added.
TPG Capital will "ensure that at least 70 percent of Cirque's senior management in Canada is Canadian, maintain significant Canadian presence on the leadership team of Cirque du Soleil and on its board of directors," the statement from the company said.
READ MORE: Great Waldorf of China: Beijing buys legendary NYC hotel for $2bn
The transaction is to be closed within a few months. The value is not reported, but AFP estimates it at $1.5 billion.
The deal was announced by Cirque du Soleil in April.
"After 30 years building the Cirque du Soleil brand, we have now found the right partners in TPG, Fosun and the Caisse to take Cirque du Soleil forward to the next stage in its evolution as a company founded on the conviction that the arts and business, together, can contribute to making a better world,"said Laliberte then.
The companies showed "a strong commitment to Cirque's unique Québec cultural heritage," he added.
Cirque de Soleil was founded in 1984. Over more than 30 years, it has had more than 155 million spectators in over 330 cities in 40 countries. In recent years, the company had financial difficulties and could not decide on a new management team. In 2006 it decided to attract a new partner.
"Cirque du Soleil hasn't received any grants from the public or private sectors since 1992," according to its website.
You can share this story on social media: