​Greece ready to put off referendum if negotiations resume – PM of Malta
Published time: 1 Jul, 2015 11:24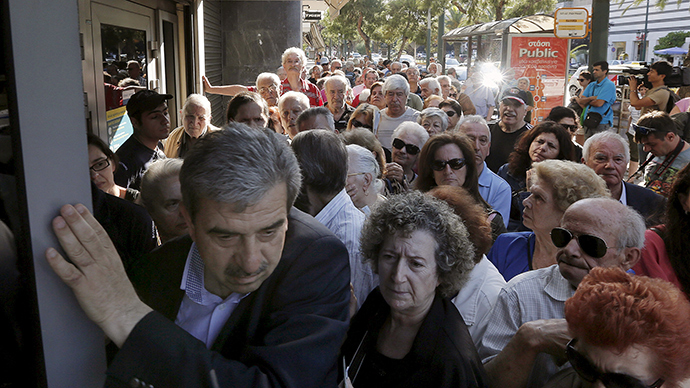 The Greek authorities have told European negotiators they are ready to suspend the referendum over confidence in the IMF and the EU, if the talks on financial aid to Greece resume, says the Maltese Prime Minister Joseph Muscat.
Greek debt crisis LIVE UPDATES
Muscat, the prime minister of a eurozone country, said on Tuesday that Athens' position can be a breakthrough in the crisis, but it can also mean "political posturing" to win time,reportsthe Times of Malta.
READ MORE: Greece becomes first developed nation to default on international obligations
Greece plans to hold a referendum on July 5. The people will be asked whether they agree to proposals from the European Commission, the IMF and the ECB.
In 2011, Greece was about to hold a similar referendum, but reached an agreement with creditors.
Greek Prime Minister Alexis Tsipras is urging Greeks to vote against austerity measures, saying it could help the country to negotiate a better bailout deal.
He also clearly hinted he would leave his post if the result of the referendum was "yes" to creditors.
"If the Greek people want to proceed with austerity plans in perpetuity, which will leave us unable to lift our head... we will respect it, but we will not be the ones to carry it out," Tsipras told state TV on Monday.
European leaders consider the referendum as a vote on the Greek exit from the eurozone.
Greeks differ in opinion on the referendum; some don't completely understand the issue and the possible aftermath for Greece.
The ballot paper of the #greferendum question upon which the Greek people are called to vote on. (Translated) pic.twitter.com/hPGJcp49Gs

— The Greek Analyst (@GreekAnalyst) June 29, 2015
An opinion poll published on Wednesday, quoted by Reuters, shows the people who are likely to vote 'No' to austerity have a lead. But the gap has narrowed after the government closed the banks for a week and introduced capital controls limiting daily cash withdrawals to €60 a day.
#YesToEuro rally. #Athens#Greece#euro#GREXIT#GREferendumhttps://t.co/fu6FRoy7chpic.twitter.com/mTIhvPMssf

— Stratos Safioleas (@stratosathens) June 30, 2015
"If we vote, it's completely uncertain what happens next. What I don't know and can't figure out is what the EU really wants to do with Greece. Do they want to deal with us, or do they want to kick us out?" film publicist Lilly PapagiannitoldBloomberg.
Tsipras's approval rating has fallen under 50 percent on Wednesday. Two weeks ago, it was more than 60 percent, said Maria Karaklioumi, a pollster from Athens.
"Hour by hour, we're seeing big shifts in people's responses, and 15 percent of voters say they're undecided," she added.
On Tuesday, Greece became the first EU member to default on international obligations. Athens failed to pay the IMF €1.6 billion debt that was due by June 30.