Greece's creditors ready to unlock €15.3bn till November – media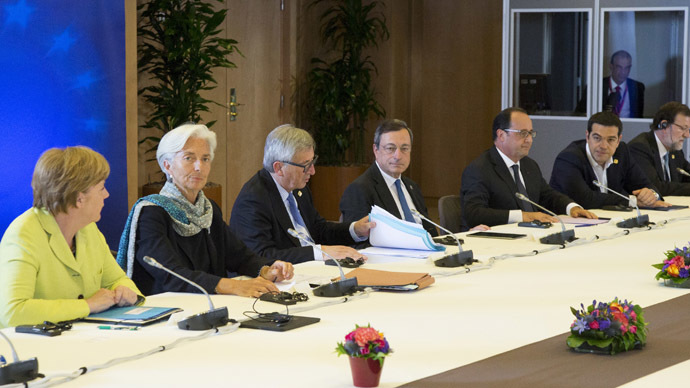 The international creditors of Greece are prepared to unlock about €15.3 billion over the next five months if the parties reach an agreement in the coming days, according to media reports referring to the documents.
READ MORE: Greek debt crisis LIVE UPDATES
The document obtained by various news agencies including Reuters and AFP also outlines the installment plan. It would come into force provided the European partners, the IMF and the Greek government agree on the bailout extension terms by Tuesday, June 30.
The extra money from the creditors will consist of four installments on privileged terms, Reuters reports. The sum includes the last tranche of the second bailout totaling €7.2 billion that so far remains blocked, as well as €1.8 billion interest the ECB got from owning Greece's sovereign bonds.
READ MORE: Greece puts off €300mn IMF payment till end of June
Greece could receive€1.8 billion next week, enough to make the country's June IMF payment.
#BREAKING Greece creditors ready to disburse 1.8 bn euros once parliament backs reforms: document

— Agence France-Presse (@AFP) June 26, 2015
The report comes on the second day of the EU leaders' summit in Brussels where the Greek debt problem is a key issue.
The key EU policymakers including German Chancellor Angela Merkel said they hope a final deal would be reached at Saturday's meeting of the eurozone finance ministersthat are scheduled to start at 15:00 GMT.
READ MORE: German EU commissioner says 'Grexit' unavoidable if no solution found in 5 days
Germany is sending a team of negotiators to Brussels aiming to make a deal at the Eurogroup meeting on Saturday, said German Finance Ministry spokesman Martin Jaeger. The ultimate goal is to keep Greece within the eurozone, according to Jaeger. Debt relief won't be discussed, he added.
This morning Greek Finance Minister Yanis Varoufakis, speaking on RTE's Morning Ireland program, said Greece's commitment to stay within the eurozone is "absolute".
German Finance Minister Wolfgang Schaeuble stressed at a conference in Frankfurt that Greece, along with other eurozone members, should adhere to the rules of the monetary union.
"No country in the monetary union should be infinitely spending money at the expense of others," he added.
Greece and its creditors have been stuck in talks over the country's €240 billion debt since the end of January, when the leftist Syriza party headed by Prime Minister Alexis Tsipras came to power. The new government promised to end the era of drastic budget cuts that dragged the country deep into recession.
During the last week the troika of lenders and Greece has been exchanging reform plans but so far a consensus hasn't been found. Pension reform and the VAT rate are the key sticking points.