Ukraine could default in July - finance minister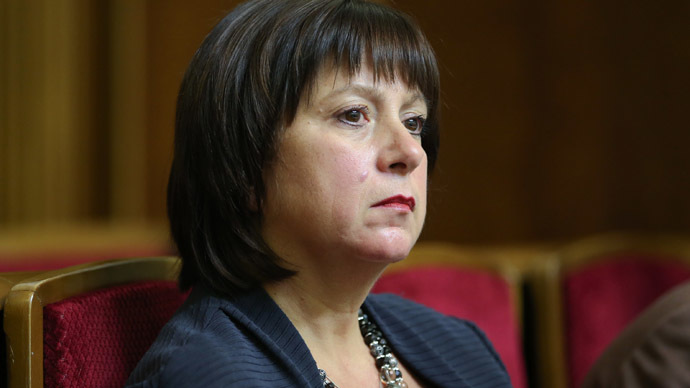 Ukrainian Finance Minister Natalie Jaresko doesn't rule out the country failing to make a $120 million coupon payment on July 24 and default. A Goldman Sachs analyst made the forecast on Wednesday.
Ukraine could theoretically default next month, as in May the country's parliament adopted a law allowing a moratorium on foreign debt repayments. The law aims to protect Kiev from an "attack by unscrupulous creditors."
This echoed a forecast made by a Goldman Sachs analyst Andrew Matheny on Wednesday.
"Ukraine will not make the July 24 coupon payment and, as a result, will enter into default at that point…We do not expect the ad hoc committee to accept Ukraine's latest restructuring proposal," he said, Bloomberg reports.
READ MORE: IMF 'failed' in Greece, Ukraine – fund's executive director to RT
Ukraine has asked its creditors to write off 40 percent of its debt and adopt new bonds tied to its future economic performance. Matheny says this option could allow bondholders to make a profit in the case of positive dynamics of economic indicators of Ukraine.
The Creditors' Committee of Ukraine, which includes T. Rowe Price, TCW Group, BTG Pactual and Franklin Templeton, said it insists on changing the terms of the agreement with the Ukrainian government and the IMF to restructure the $15 billion, including $3 billion owed to Russia. The group owns about $9 billion of Ukrainian debt.
READ MORE: Ukraine should delay debt payment until 2019 without writing it off – creditors committee
Ukraine's Prime Minister Arseny Yatsenyuk also admitted Thursday his country is unable to pay the $40 billion debt it has accumulated over the last three years. The total amount required to service Kiev's debts is equal to its military expenses, which make up five percent of GDP, he added.
Kiev is struggling to restructure its more than $50 billion debt, including $3 billion bonds sold to Russia. Some estimates put the debt at $70 billion.
The IMF says the bonds held by Russia should be treated as official rather than private debt, reported Bloomberg Tuesday, citing sources.If the $3 billion bonds are treated as Kiev's official debt, they would be excluded from restructuring.
READ MORE: Russia to turn to courts if Ukraine fails to pay $3bn debt in time - Siluanov
In 2013, Russian President Vladimir Putin and then Ukrainian president Viktor Yanukovich agreed Moscow would buy $15 billion in Ukrainian bonds.Russia decided against buying the extra $12 billion after the Maidan events, that resulted in Yanukovich leaving his post and fleeing Ukraine.
Members of the committee, Jaresko and the IMF will meet in Washington to discuss whether and when Kiev would get the next part of a $17 billion loan.The IMF said earlier in June that it intends to give financial aid to Kiev even if it halts servicing debt held by private bondholders.
You can share this story on social media: