​Australia's electricity 'to be dominated by renewables' in 25 years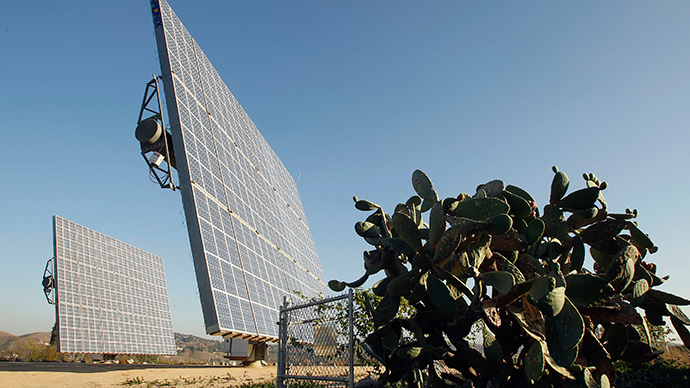 Renewable energy in Australia will outrun conventional means such as fossil fuels by 2040, accounting for 59 percent of electricity generation, according to energy analysts.
Rooftop solar systems are expected to squeeze out retiring coal and gas plants, the Guardian reports, referring to New Energy Outlook 2015, published by Bloomberg New Energy Finance.
However, analysts say that Australia's carbon emissions from electricity are unlikely to fall significantly for at least two decades and will reduce only 9 percent by 2030 compared with 2014. Pollution will remain "stubbornly high" if the government doesn't accelerate the closure of coal and gas plants.
It will be cheaper to replace retired electricity plants with wind or solar farms rather than with modernized coal plants even without the government's participation, Kobad Bhavnagri, the head of Australia's Bloomberg New Energy Finance, told the Guardian.
The Australian coal industry is currently focused on export and it has been "quite some time" since a new coal power station was built in Australia, he said.
READ MORE: Australia develops world's most efficient solar panels
The existing policies of the Australian government envisage that "highly polluting" coal generators reaching the age of 50 years would nonetheless be "run for as long as is physically possible," he said adding that the renewable energy target was "the only policy currently operational that will have an impact on the power sector."
A "far more robust and comprehensive power sector policy, in particular one that deals with coal closure" is required in case the country has plans to reduce greenhouse gas emissions, Bhavnagri said adding that the following governments would need to make "much deeper cuts and emissions" than forecast in the study if they wanted to effectively contribute to global efforts of holding down climate change.
If Australia places restrictions on fossil-fuels, it would be able to achieve 100 percent of renewable energy usage by 2040, Andrew Blakers, the director of the center for sustainable energy systems (CSES) at the Australian National University told the Guardian.
Moreover, the country would be able to achieve greenhouse neutrality a decade later if it switched to electric transport, including cars, trams and trains, he added.
"And it would be in everybody's medium- and long-term interests to do so," he said.
You can share this story on social media: