Australia develops world's most efficient solar panels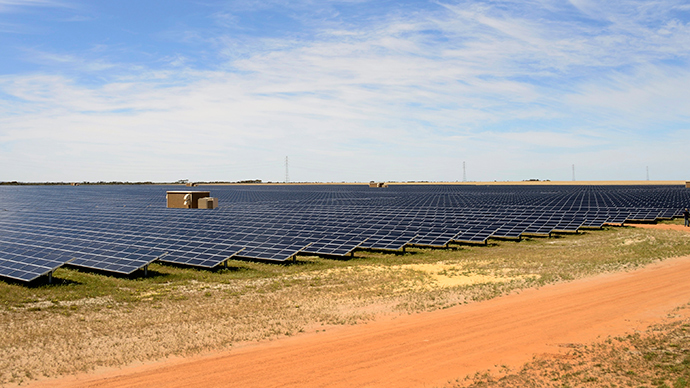 ​Australian researchers have developed a new method of using commercial solar panels that converts more electricity from sunlight than ever before.
The new photovoltaic (PV) system created by University of New South Wales (UNSW) researchers converts 40 percent of solar light into electrical energy, which is a 15 percent increase over regular panels.
Laboratory tests have shown the solar cell method can convert up to 46 percent of the sun's energy into electricity. The new Australian technique works with regular commercial PV panels under normal conditions, and could potentially make solar plants more competitive with other energy sources, such as fossil fuels.
"This is the highest efficiency ever reported for sunlight conversion into electricity," UNSW Professor Martin Green said in a statement. "We used commercial solar cells, but in a new way, so these efficiency improvements are readily accessible to the solar industry."
The amazing Martin Green again! #Solar efficiency world 1st in Aust by @UNSW via @smh#auspolhttp://t.co/XokbRh3p7vpic.twitter.com/UlYZoHk2dC

— 350Australia (@350Australia) December 7, 2014
Traditional solar energy production uses one solar cell, which limits the conversion of sunlight to electricity to around 33 percent. The new UNSW technology distributes the sunlight into four different cells, thus boosting the conversion levels, Green told AFP.
The breakthrough involved two steps: three solar panels were set to capture energy from sunlight of different wave lengths, and then excess light from the cells is reflected by a mirror and filters, and is directed to a fourth PV panel. Thus, previously spare sunlight is used in the process and contributes to the increased efficiency.
The UNSW solar researchers have made a number of advancements in solar energy in the past forty years, including the first photovoltaic system to achieve a conversion rate of over 20 percent in 1989. The latest breakthrough doubles that.
ABS release report showing 1 in every 5 houses now uses Solar Energy - Well done Australia http://t.co/hYizvUAL0Vpic.twitter.com/2gNwmGWIZX

— Green Energy Trading (@GreenEnergyTrad) December 4, 2014
The technology was can be used with photovoltaic power towers developed by Australia's RayGen Resources. Power towers use sun-tracking mirrors to focus sunlight on a tall collector building.
Martin Green hopes the technology could be adapted to be used on domestic solar panels on people's roofs in the future. They currently have just a 15 to 18 percent of efficiency.
The UNSW solar energy research has been funded by the Australian Renewable Energy Agency (ARENA).
The agency's CEO Ivor Frischknecht says the new panel technology demonstrates the advantage of Australia investing in renewable energy.
"We hope to see this home grown innovation take the next steps from prototyping to pilot scale demonstrations," says Frischknecht. "Ultimately, more efficient commercial solar plants will make renewable energy cheaper, increasing its competitiveness."
You can share this story on social media: