Not a red eurocent? Ireland to scrap cost-inefficient small coins – report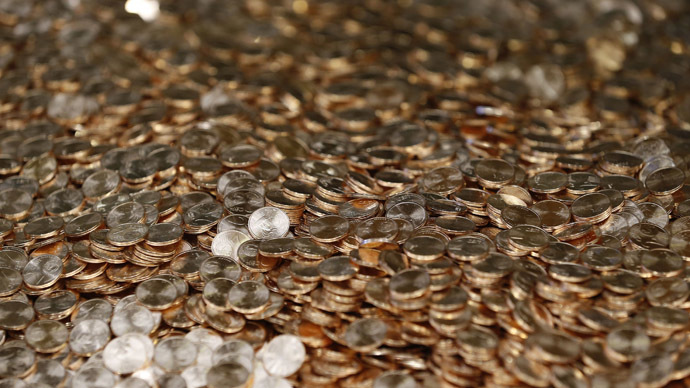 The Irish government is reportedly planning to give up on national circulation of one- and two-cent coins, as minting them costs more than they are worth.
The Irish Cabinet is set to discuss the withdrawal of the small coins with a helping hand from Finance Minister Michael Noonan on Tuesday, government sources told Irish Independent.
Five EU member states – the Netherlands, Sweden, Finland, Denmark and Hungary – have already adopted similar measures.
In Ireland alone, the production of one and two cent coins costs more than €3.5 million, with a one cent coin costing 1.65 cents to produce and a two cent coin requiring 2.07 cents. In the past decade, the mint in Sandyford in Dublin has produced over 1,074 million one cent coins and 906 million two cent coins.
READ MORE: 'Can't take any more': Thousands protest in Dublin against proposed water charges (PHOTOS)
Meanwhile, according to reported estimates, the penny jars of ordinary Irish people have turned out to be a real leprechaun's pot of gold. Copper currency stockpiled in Irish piggy banks is worth some €35 million, costing the economy over €10 million a year.
In autumn 2013, a trial in Wexford resulted in the withdrawal of small cent coins from the county. Both customers and retailers supported the cash register rounding cash transactions to the nearest five cent, which surprisingly didn't lead to soaring prices.
"We have had very little resistance from customers or businesses... as far as we are concerned it has been a massive success," Madeleine Quirke, CEO of the Wexford Chamber of Commerce, told Irish Independent. "We would welcome a nationwide roll-out and feel the time and expense spared by businesses will serve the economy well in the long run."
READ MORE: Euro slides on Greece default fears
Last year, Wexford's example was used by the National Payments Plan (NPP) as grounds for a recommendation to broaden the ruling nationwide. However, some charity organizations have already raised concerns that the loss of the small coins could cause a potential drop in revenue at their checkout collection boxes.
Ireland is still recovering from a post-2008 banking crisis and paying back multibillion Troika loans that came with lasting austerity measures. Despite signs of economic growth, the country's public and private debt figures remain high, with national debt standing at over 114 percent of GDP.
According to a report released by the European commission in winter 2015, Ireland's rate of GDP will slide to 3.5 percent in 2015, down from 4.8 percent in 2014. In May, the unemployment rate in Ireland reached 9.8 percent, according to the Central Statistics Office of Ireland.