Russia's biggest pancake maker to hit US by 2016 - Bloomberg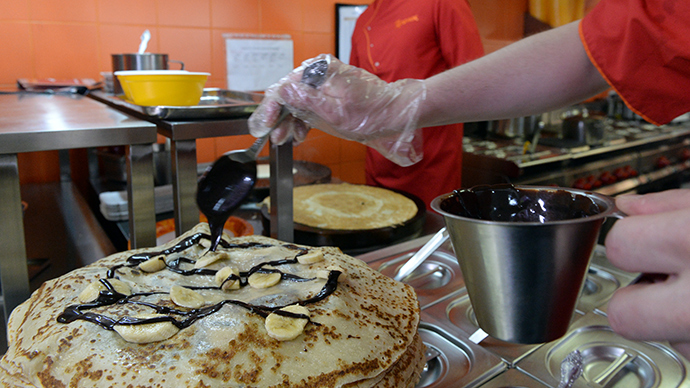 The largest chain of blini (pancake) vendors in Russia is opening a store in New York this fall as part of its international expansion. Teremok will become the first Russian fast-food chain in the US.
The first two outlets will be based in Midtown Manhattan, and will cost the founder of Teremok Mikhail Goncharov up to $250,000 each, Bloomberg reported on Monday.
"Ties like this are important like never before," Goncharov told Bloomberg by phone.
"We're about business, goodness and caring -- qualities valued by people all over the world," he added.
Each dish in the Manhattan Teremok stores will be priced between $4 and $10. To compare, the price of a McDonald's Big Mac in New York is about $5.23.
There will be no significant changes to the Russian menu of Teremok except one unique ingredient for American customers – maple syrup.
When I first had Teremok a decade ago, I remember thinking, this would sell in the US. We shall soon find out. http://t.co/mjfbNAg9mW

— Paul Sonne (@PaulSonne) June 14, 2015
Teremok will expand into such countries as Germany, the UK and China, if the New York stores turn out to be successful, Goncharov said.
The first Teremok opened in Moscow in 1998. It was one of the first fast-food chains in Russia offering Russian food vying to compete with McDonald's. Last year company revenue was $120 million (6.5 billion rubles), with growth in the first quarter of the year at 20 percent.
READ MORE: Blini with caviar from Russia's Teremok rated a global fast food delight
Today the chain serves 30 million customers annually at about 300 outlets in Moscow and St. Petersburg. Blini in Teremok are cooked in front of the customer who can then choose from about 30 stuffings and toppings. The chain also offers beetroot soup (borscht), dumplings (pelmeni), and buckwheat porridge.
The founder of the company says Teremok's secret weapon is his mother Tatiana, who continues to develop all the company's recipes and is in charge of quality control.
In 2011, CNN ranked Teremok among the world's best fast-food chains outside the US. Later in 2013, the chain was given a similar ranking by USA Today.
There are already several successful Russian restaurants in Manhattan, such as Samovar, Mari Vanna and the Russian Tea Room, which was founded by members of the Russian Imperial Ballet in 1927.