Russia begins grain deliveries to Iran – Russian food watchdog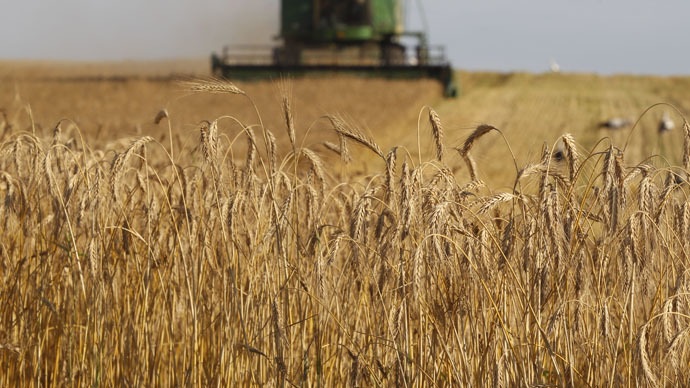 Russia has started delivering grain to Iran according to the Russian food safety regulator Rosselkhoznadzor. The first 100,000 tons could be part of the 'oil-for-goods' barter deal between Moscow and Tehran.
"Yes, deliveries began a few days ago. 100,000 tons have been already shipped at the moment," the assistant head of Rosselkhodnadzor Alexey Alekseyenko told RIA Novosti on Monday. It is expected the grain shipments would not be less than last year's 1.3 million tons, he added.
READ MORE: Russia and Iran ready to launch 'oil-for-goods' deal next week – Iranian oil minister
Last week after an OPEC meeting in Vienna, Iranian Oil Minister Bijan Namdar Zanganeh hoped to start implementing the 'oil-for-goods' barter deal with Russia after June 7. He added that Russia plans to buy oil in exchange for cash, which Iran will then spend on Russian goods such as steel, wheat and oil byproducts.
Six Iranian food companies have been given access to Russian market in May. Two poultry and meat producers were allowed to start deliveries after providing safety guarantees.
In April, the Kremlin confirmed the 'oil-for-goods' deal between Moscow and Tehran, saying that Russia started supplying grain, equipment and construction materials to Iran in exchange for crude oil under the barter deal. Russian Energy Minister Aleksandr Novak then said that Russia was not receiving Iranian oil supplies.
Iran currently has 20-30 million barrels of crude oil in storage and hopes a draft agreement to lift US sanctions on Iranian oil exports will soon be finalized.
Iran and the P5+1 powers (China, France, Russia, UK, US and Germany) agreed on a preliminary deal over the country's nuclear program in April. Under the framework, Iran will not pursue new enrichment facilities, or heavy water reactors, for 15 years. A final agreement is to be reached by June 30, 2015. The country can increase shipments by one million barrels a day to 2.5 million barrels per day if sanctions are lifted, according the oil minister.
You can share this story on social media: