​Russian-Chinese partnership is not a threat to other countries – former FM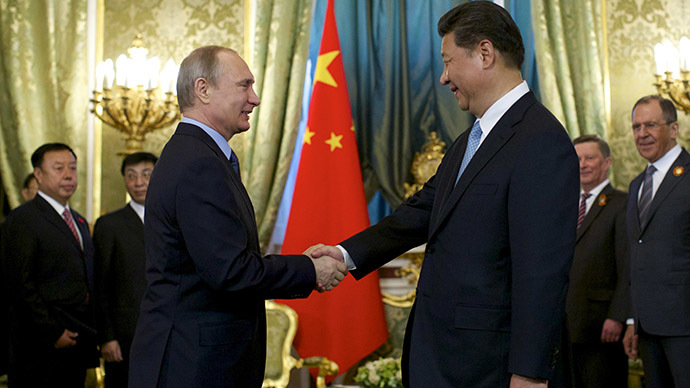 The economic cooperation of China and Russia is not aimed at infringing upon the interests of any other country in the Asia-Pacific region, said Igor Ivanov, ex-foreign minister and President of the Russian Council on International Affairs.
The relations between Moscow and Beijing do not create threats for other states, Ivanov stressed, while speaking on Friday at an international conference Russia and China: New Partnership in a Changing World.
"We see a new type of relations evolving between Russia and China which have no precedent in the history of the cooperation between the great powers," he said.
READ MORE: Russia, China agree to integrate Eurasian Union, Silk Road, sign deals
"The new partnership is not an alliance between Russia and China against any whatsoever third countries and coalitions, the relations are developing on their own basis and do not give rise to any challenges or threats to neighboring countries or to other great powers," Ivanov added.
Russia and China are moving towards the formation of a continental partnership that would include cooperation not only within the Eurasian Economic Union (EEU) but also with the Silk Road – an economic project that is supposed to link East Asia and Europe, said Russian Deputy Foreign Minister Igor Morgulov.
"Since 2010, China asserted itself as the first trading partner of Russia," he said. "I think this will be a long-term trend."
READ MORE: China and Russia to increase trade to $100bn in 2015
"The first step was the decision to start negotiations between the EEU and China over the agreement on trade and economic cooperation," he said recalling the agreement signed by the leaders of Russia and China on May 8.
"In fact, we are talking about the formation of a certain continental Eurasian partnership that would include both EEU countries and China," he added noting that this would bring extremely important prospects for future collaboration.
New Silk Road is about economy, not geopolitics
The China-led New Silk Road project linking Europe and East Asia is aimed at regional development and doesn't contain any political context, according to Li Yongquan, director of the Institute of Russian, Eastern European and Central Asian Studies of the Chinese Academy of Social Sciences.
"The Silk Road is a purely economic project which has no geopolitical roots," Yongquan said.
"Implementing an economic project does not involve matters of sovereignty. And this is a very sensitive issue in the post-Soviet space," he added.
The infrastructure projects in Asia within the Silk Road are not directed against the transit potential of Russia, such as Trans-Siberian Railroad, the Baikal-Amur railway or the Northern Sea Route, Yongquan said adding that at the same time the initiative requires thorough elaboration by the international community.
READ MORE: China to inject $62bn in policy banks to boost 'New Silk Road' - report
"There can be certain reasons for concern indeed," the expert said, noting, however, that "mechanisms of close co-operation existing between us should resolve these issues".
Beijing's plan to create a modern Silk Road aims to put the new life into a same-name ancient route and build a transport, energy and trade corridor between Europe and Asia. The infrastructure projects would include railways, highways, oil and gas pipelines, as well as power grids and Internet networks.
Meanwhile, trade between Russia and China was worth $95.3 billion in 2014. The two countries plan to boost trade turnover to $100 billion in 2015 and to $200 billion by 2020, the Chinese Ambassador to Russia Li Hui said earlier in April. Switching to mutual settlements in local currencies, which have already increased by more than 800 percent, will also help stimulate trade.