Serbia to join US-backed gas project, seeks diversification from Russia - PM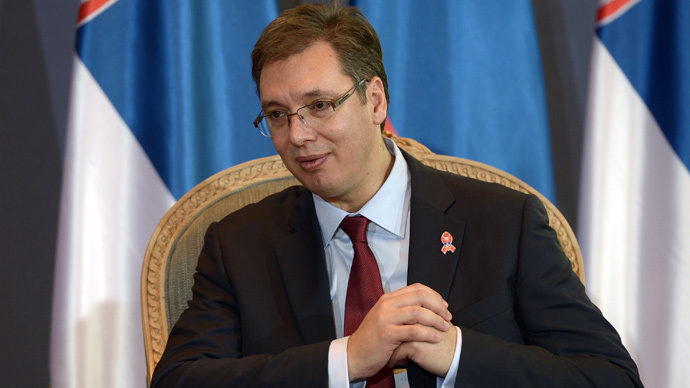 Serbia will join US-backed Trans-Adriatic Pipeline following Washington's calls to reduce dependency on Russian gas, the country's Prime Minister Aleksandar Vucic told the Associated Press.
"Regarding energy safety, energy security, we are ready to diversify the sources of gas for Serbia, which is very important for our American friends as well," Vucic said in an interview to AP in Tirana published on Thursday.
Serbia which has already expressed interest in the Moscow-backed pipeline project says it's not balancing or choosing sides. The country's main goal is the European Union and it is firm on its EU path, Vucic said, adding that good relations with Washington were very important on Serbia's road to joining the EU.
READ MORE: Serbia wants to join Turkish Stream – foreign minister
Serbia refused to join Western anti-Russia sanctions while some officials were urging it to choose between Russia and the EU.
"We don't speak about taking or choosing sides, our side is our path to the EU, our side is (in the interest of) Serbia", Vucic was cited as saying by AP. He also reminded that he had already voiced this point of view openly to Russian President Vladimir Putin during a press conference.
On the other hand, Belgrade would like to preserve a good relationship with Russia, the prime minister told AP.
Following the AP interview Vucic clarified his remarks saying that Serbia is not choosing an American gas project but is rather trying to ensure the security of its energy supply.
In a new statement, Vucic said that Russia is going to stop the supply of gas to Europe through Ukraine in 2019. This will halt the delivery of gas that Serbia receives from Hungary.
"When the Russians stop sending gas through Ukraine in 2019, where will we get it from, may I ask?," Vucic said, highlighting that his main concern is the well being of Serbia. " I want those who will come after me, to have secure piping connections with certain countries, that we have a gas and, if possible, cheaper than it is today," said Vucic, answering journalists' questions about the diversification of gas supplies.
The PM once again highlighted that diversification means receiving a supply from more than one player on the market.
"If Russians can help – thank you; if Americans can – thank you, thank you to all that can," the PM said.
In 2014, Gazprom delivered 1.5 billion cubic meters of gas to Serbia. In 2013, the parties signed a 10-year contract to deliver up to 1.5 billion cubic meters of Russian gas annually.
United States has been lately persuading Balkan and other countries to join the Trans-Adriatic Pipeline, which is to bring gas to Europe from Azerbaijan via the Russia-proposed Turkish Stream.
The Turkish Stream will have an annual capacity of 63 billion cubic meters, of which 47 billion cubic meters will be delivered to a hub on the Turkish-Greek border. It is replacing the South Stream project which Russia had to suspend in December as the EU blocked its implementation.
The South Stream was supposed to connect underwater Black Sea pipelines with a network in Eastern Europe, with Bulgaria as the entry point.
Earlier this month, Serbian Minister of Foreign Affairs Ivica Dacic said that Belgrade was interested in joining the Turkish Stream pipeline and called on the European Union to support the project.
You can share this story on social media: