Russia's Finance Ministry plans to meet Fitch by end of May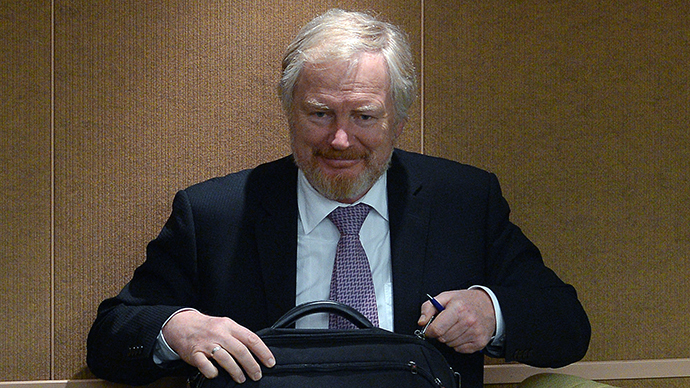 Global ratings agency Fitch is to visit Moscow in late May. Fitch remains the last global firm to decide against slashing Russia's rating to a non-investment grade, saying it needs a better understanding of what's happening with the economy.
"By the end of the month, Fitch will arrive in Russia," Deputy Finance Minister Sergei Storchak said Monday, adding that the agency is scheduled to meet Russia's Finance Ministry officials. Among the topics to be discussed are the measures taken by the government to stabilize the situation in the Russian economy.
READ MORE: Russia's downgrade by Western ratings agencies 'politicized' – Dagong boss
Russia's credit rating, according to Fitch, is "BBB-", the lowest investment-grade level. Two other leading rating agencies, S&P and Moody's, now keep Russia on a non-investment grade.
The visit to Moscow comes after Russian Finance Minister Anton Siluanov held a meeting with Fitch in Washington in April.
Fitch decided not to change Russia's sovereign rating and deferred consideration of the issue, deciding to study the situation in the Russian economy more thoroughly, Siluanov said after the meeting.
Russian authorities and their Asian partners have been repeatedly saying that the ratings by a so-called "Big Three" of Fitch, Moody's and S&P are politicized.
Alternative efforts
A 'sanctions war' with the EU and the US has prompted Russia to speed up its efforts to diversify away from western dominance in finance and ratings. BRICS countries are now discussing the creation of a new independent rating agency and China's rating agency Dagong is in talks with Russia on the issue.
READ MORE: BRICS to discuss creating new rating agency in March - Brazilian ambassador
There have already been efforts to set up alternative rating agencies.
For example, Universal Credit Rating (UCRG) was registered in 2012 in Hong Kong on the basis of the Chinese rating agency Dagong, Egan-Jones of the US, and Russian RusRating to match the big three - Fitch, Moody's, S&P.
In 2015, the head of the Russian Central Bank, Elvira Nabiullina, and Dagong officials discussed the launch of UCRG in Russia, said the CEO of RusRating Alexandr Zaitsev.
You can share this story on social media: