Oil price to reach $80 by 2017 – Iranian oil minister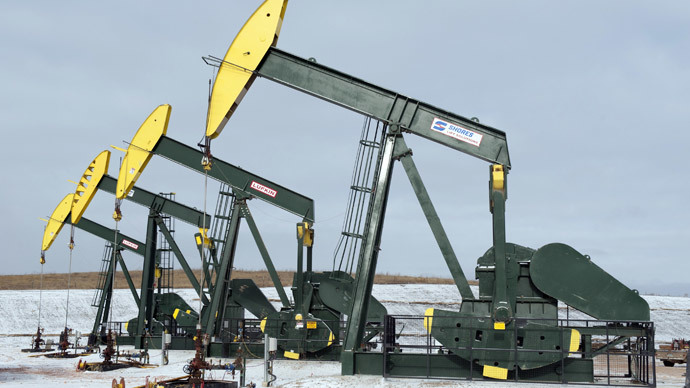 Iran hopes its crude oil exports will be back to the pre-sanctions level of 2.5 million barrels per day (bpd) and the oil price to rise to around $80 a barrel by end of 2016, according to Iran's Deputy Oil Minister Rokneddin Javadi.
"It depends on the market situation and price level, but we will come back to the traditional trade that we had before," Javadi said, Reuters reported on Monday. Asia could take more than 50 percent of Iran's exports, he added. This can happen in three to six months once a deal with major powers to lift the oil embargo is finalized, the minister said.
READ MORE: Tehran and world powers reach solutions on Iran nuclear program
The Iranian minister added that "from a commercial point of view, today's prices should be sustained and increase gradually."
"But it depends on the political situation and what's going on in the Middle East and Arabian countries," Javadi said.
READ MORE: Saudi Arabia claims success in tussle for oil market share
Oil prices edged up on Monday on supply concerns in the Middle East following fighting in Iraq and the resumption of Saudi-led air strikes on Yemen after a five-day ceasefire. Brent futures for July were up 37 cents at $67.18 a barrel by 12:20 MSK. US West Texas Intermediate (WTI) crude rose 45 cents to $60.14.
Pushing further
Iran is still likely to push for an OPEC output reduction or cooperation on the right amount of oil to be delivered to the market at the upcoming June 5 meeting, Javadi said. However, he doesn't think the Organization of the Petroleum Exporting Countries will cut production.
The price for Brent futures hit a five-month high in early May at above $68 a barrel, recovering from the 50 percent loss over the past year, which was aggravated by OPEC's refusal to cut production despite the collapsing prices. Iran has repeatedly called for OPEC to curb output to support prices, saying that an increase of its oil production will not cause a price crash.
Iranian oil exports have more than halved to about 1 million bpd since 2012 as a result of EU and US sanctions over the country's nuclear program.