ISIS claims full control of Ramadi after Iraqi troops abandon positions (VIDEO)
Published time: 18 May, 2015 00:11
Edited time: 18 May, 2015 17:18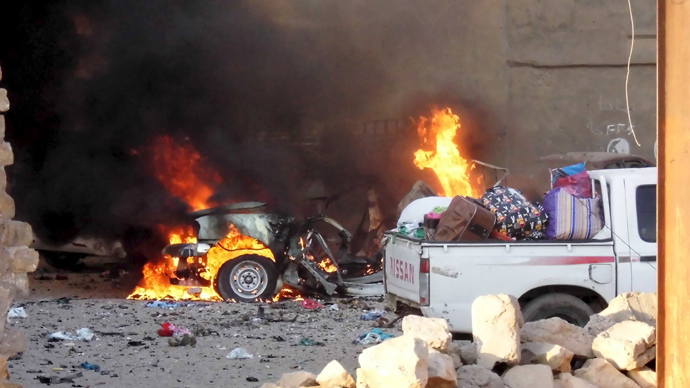 Iraqi forces have retreated from a compound they used as a command center in Ramadi, losing control of Anbar's provincial capital to Islamic State militants, despite substantial US airstrike support helping Iraqi troops and loyal militia hold the city.
"Ramadi has fallen,"said Muhannad Haimour, a spokesman for the governor of Anbar province."The city was completely taken. ... The military is fleeing."The spokesman added that at least 500 people were killed in the jihadist offensive.
As the key Iraqi city fell into IS hands, Iranian Defense Minister Hossein Dehghan arrived to meet his Iranian counterpart Khaled al-Obeidi. Iran is a key ally of Iraq in its war against the jihadists, with the Iranian military supporting Shiite militias fighting for Baghdad.
Several militia groups are converging near Ramadi for a counter-offensive against the militant group.
The Islamist militants claimed their full control of the city after squashing last major pocket of resistance from tribal and government forces.
"God has enabled the soldiers of the caliphate to cleanse all of Ramadi... after storming the 8th brigade. They (now) control it along with a battalion of tanks and missile launchers and in addition to the Anbar operations command," the Islamic State (IS, formerly ISIS) statement said. The group also said it had seized tanks and killed dozens Iraqi security forces.
The final ISIS offensive that drove out government forces and tribal militias began early Sunday. Militants focused their attack on police officers defending the Malaab district in southern Ramadi by simultaneous bombings. Another three suicide bombers stormed the gate of the military headquarters to take control of the Anbar Operation Command.
Jihadis "pushed into the Ramadi military command headquarters after a fierce fight. The whole city is under their control," Ahmed al-Dulaimi, a tribal leader told Bloomberg via phone.
Local security officials told AP that the militants already carried out mass killings of Iraqi security forces and civilians. Sunni tribal leader, Naeem al-Gauoud, said that bodies litter the streets in Ramadi, while others are thrown in the river.
Two days of fighting in Ramadi had displaced around 8,000 people according to the International Organization for Migration.
READ MORE: ISIS captures capital of Iraqi Anbar, raises black flag over Ramadi govt HQ
Ramadi has been captured despite US-led air support and a counter-offensive by Iraqi forces to recapture the city. At least seven airstrikes in Ramadi were conducted in the last 24 hours – the highest number of strikes to target any single location. "It is a fluid and contested battlefield," said Army Col. Steve Warren, a Pentagon spokesman. "We are supporting (the Iraqis) with air power."
The Pentagon refused to immediately admit Ramadi had fallen, with Defense Department spokeswoman Maureen Schumann saying it was "too early to make definitive statements about the situation on the ground." She said the United States was "continuing to monitor reports of tough fighting in Ramadi and the situation remains fluid and contested."
The Islamic State indeed has military advantage in Ramadi, the Pentagon confirmed, warning that the city falling into the hands of jihadists would be a great propaganda boost for them. But in the worst case, official said according to Reuters, the US-led coalition would support Iraqi army in taking the city back "later."