​Tesla's Powerwall battery beats expectations, likely to outpace e-cars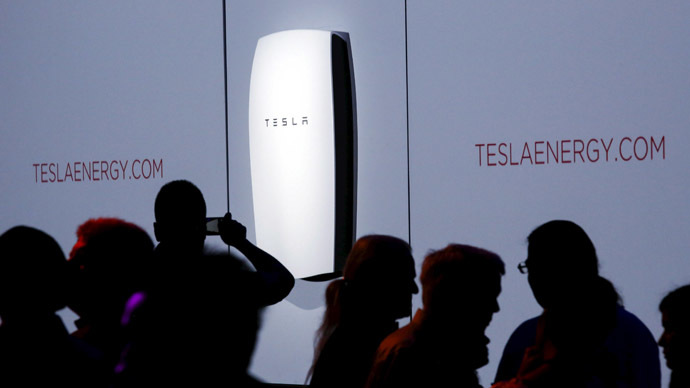 Tesla Motors has so far taken 38,000 reservations for its zero-carbon Powerwall home battery. Such high demand signals that revenue from the company's new battery could soon outstrip that from its electric cars sales.
"There's no way that we can possibly satisfy the demand this year," Musk told Wall Street analysts Thursday during a conference at which he reviewed Tesla's first-quarter earnings.
"We're basically sold out through the middle of next year — in a week! We can't even respond to them. We have to triage our response to those who want to be a distributor. It's crazy off the hook. It seems to have gone super viral."
READ MORE: Tesla aims at household energy bills with wall-mounted batteries
Tesla's first quarter revenue rose 51 percent to $939 million, while the company's net loss widened to $154 million as a result of new investments and the effect of the strong dollar. The loss was estimated at $45 million, better than analysts' expectations.
A series of two battery backup products for home and industrial use was presented on May 1. The lithium-ion battery modules can accumulate electricity from solar panels, charging up during non-peak hours of energy use, and then provide energy to a home or facility for up to 3-5 hours. The newly developed systems come under a product line called Tesla Energy.
Homeowners will be able to get a Powerwall battery in 7 and 10 kilowatt-hour modules for $3,000 and $3,500 respectively. Tesla will also offer 100-kilowatt-hour modules for industrial applications at $25,000 each.
READ MORE: Tesla updates software to roll out driverless cars in three months
Tesla is known as a car producer famous for its electric-powered vehicles such as the Model S sedan, which also operates on lithium-ion batteries.
The company has made a substantial contribution in changing the car business, forcing other major car producers to develop their own e-vehicles. Tesla's Powerwall battery could trigger a similar trend in the home-charging business.
Tesla hopes to reveal a prototype of its next vehicle, the Model 3 sedan, in March 2016. It will cost about half the price of a Model S and is expected to go on sale at the end of 2017.