Russia to limit apple imports from Serbia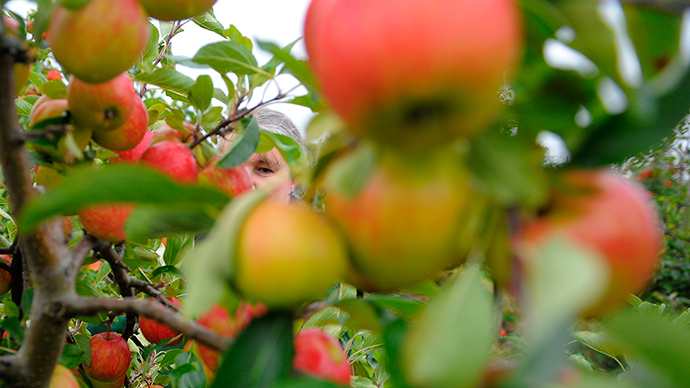 Russian imports of apples from Serbia will be limited, said Russia's food watchdog Rosselkhoznadzor, citing quality concerns. Moscow has suspected the sharp rise of supplies from Serbia could hide the re-export of banned apples from Poland.
"We have to introduce a prior notice procedure in respect of apple deliveries from Serbia. Products will not be authorized to cross the border without inspection," the head of Rosselkhoznadzor Sergei Dankvert said on Thursday, TASS reports. The tougher measures are related to a "large-scale falsification of Serbian quality certificates". "We checked 33 Serbian apple certificates and only one of them was authentic," Dankvert said. The limit on apple supplies will come into force on Friday.
READ MORE: Russia may ban food imports from Serbia if re-export confirmed
Russia became concerned last month after a significant increase in apples coming from Serbia, and suspected the fruit could have been re-exported from Poland, which is currently under a food embargo.
The export of apples from Serbia to Russia has increased by 48 percent to 118,000 tons since the embargo, and Moscow requested an explanation from Belgrade, threatening a ban if it got no reply. Serbia questioned the reliability of the data from Rosselkhoznadzor with an official from Serbia's Ministry of Commerce claiming that "no violations related to the re-export of goods to Russia have been found during the audit."
READ MORE: Putin bans agricultural imports from sanctioning countries for 1 year
In August President Putin signed a one-year ban on agricultural produce, foods and raw materials from countries that have sanctioned Russia over the Ukrainian crisis.