Russian govt approves gas supplies to China via the world's biggest pipeline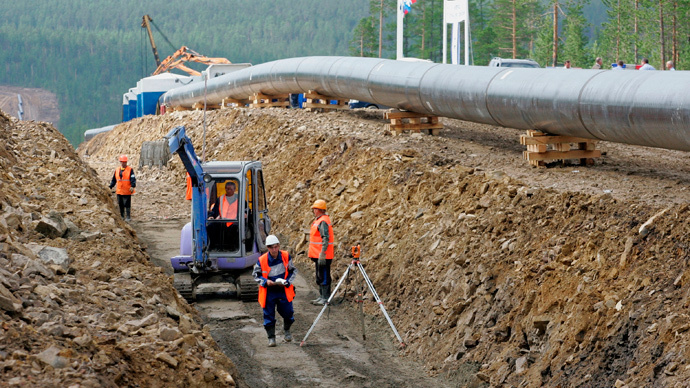 Russia's upper house of Parliament, the Federation Council, has ratified the plan to deliver 38 billion cubic meters of natural gas to China. The deliveries are slated to begin as early as 2018.
The bill hashes through the detail of exactly how the nearly 4,000 kilometer long pipeline will be built and operated. The document lays out the basic conditions for cooperation between the two countries on the project, including the design, construction and operation of the cross-border gas pipeline. The upper house ratified the motion on Wednesday, RIA Novosti reported.
Russia and China signed a document outlining the terms of gas supply to China via the Power of Siberia pipeline on 13 October 2014. The pipeline, the world's largest, is scheduled to begin delivering 5 billion cubic meters of gas to China in late 2018, and become fully operationally in 2019.
READ MORE: Russia and China seal historic $400bn gas deal
In May 2014, Russia's Gazprom and China's CNPC signed a $400 billion deal to deliver 68 billion cubic meters of gas from Russia's Siberian fields to China over 30 years. The Power of Siberia will deliver 38 billion cubic meters and will be built first, and the second western Altai route will follow. Gazprom CEO Aleksey Miller has said the 2,600-kilometer Altai pipeline can be built 4-6 years after a final deal is inked.
The deal took more than a decade of negotiations between gas-hungry China and gas-rich Russia, and also came at a time when relations between Russia and the US and Europe deteriorated over the Ukraine crisis.
China is one of the world's largest energy consumers, and imported more than 170 billion cubic meters of natural gas in 2013, and Russia is home to largest known reserves of gas.
Russian President Putin and Chinese Vice Premier Zhang Gaol broke ground on the project in September.
Gas is set to start pumping from the Chayanda and Kovykta gas fields in the republics of Yakutia and Irkutsk to the Chinese border town of Blagoveshchensk.
You can share this story on social media: