Spain, S.Korea and Austria approved as founding members of China-led bank AIIB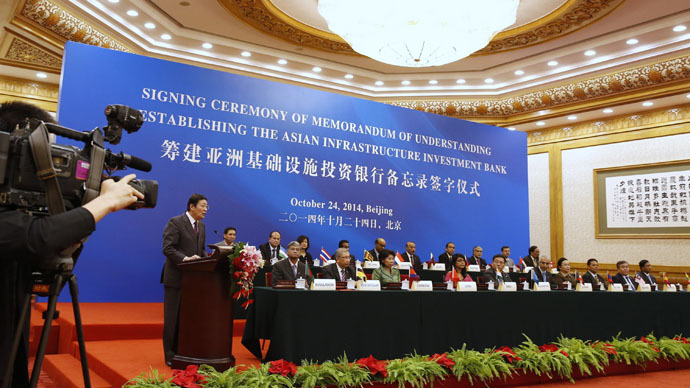 Austria, Spain and South Korea have been approved as founding members of the Asia Infrastructure and Investment Bank (AIIB), the Chinese Finance Ministry announced Saturday.
A founding member of the bank has the right to help write its rules and Saturday's additions bring the number of prospective founders to 41. The exact number of founding members will be finalized on April 15.
Any country that joined the AIIB after March 31 will only be allowed to be an ordinary member, which means they have voting rights but less say in making the rules.
The AIIB was set up to provide finance for railways, roads, airports and other important infrastructure projects in Asia.
The State Council of the People Republic of China has confirmed that Russia will also become a founding member of the bank. A number of leading European economies have also applied to becoming founding members, including Germany, France and the UK.
READ MORE: Russia to join Asian Infrastructure Investment Bank in two weeks
Japan has decided not to apply, saying it would want the terms of joining to include establishing lending rules with due account for social consequences plus certain guarantees on transparency. Tokyo however said it may join in the future.
Washington was first skeptical of the emerging bank, seeing it as a rival of the US-led World Bank, the International Monetary Fund (IMF), and the Manila-based Asian Development Bank (ADB), which is dominated by Japan and the US.
In a subsequent shift of tone, though, Nathan Sheets, US Treasury Under-Secretary for International Affairs, said the US "welcomed new multilateral institutions that strengthen the international financial architecture."
The AIIB was established by China in 2014 and had an initial subscribed capital of $50 billion, which is planned to be increased to $100 billion.
You can share this story on social media: