​Visa may avoid huge Russian fines over data compliance as regulator eases terms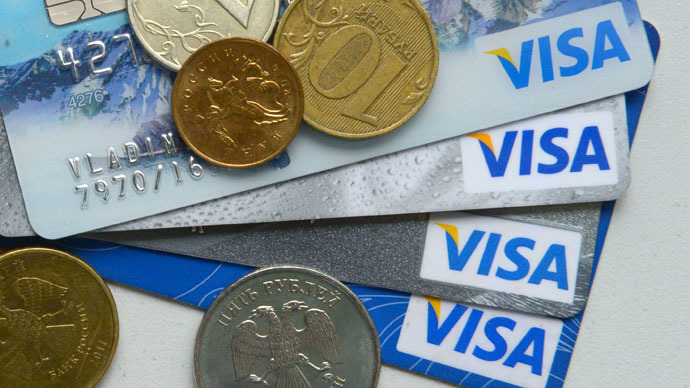 The Central Bank of Russia (CBR) has extended its deadline for the Visa payment system to switch processing the country's domestic payments to the national system of payment cards (NSPC) until the end of April.
A guarantee fee will be needed from payment systems that were not considered nationally important and fail to fully transfer transactions in the NSPC by April 30, says a report on the CBR website. Earlier the regulator set the deadline at March 31. Visa has a month to avoid paying the fee estimated by RBC experts at $200-300 million a year.
Visa had written to say it would complete moving local transactions to the NSPC by the end of May, but the Central Bank moving the deadline could motivate the company to speed up the process.
READ MORE: Visa to pay $60mn guarantee as it misses Russian data deadline
The CBR states that any system which has made a deposit will be able to get its money back almost immediately after all the operations of its partner banks go through the NSPC. This will require sending a statement to CBR, representatives of which will make a decision within 11 working days, says Kommersant.
Should Visa fail to meet the new deadline it should start gradually depositing fees to the Central Bank for eight quarters, equivalent to 25 percent of its daily turnover.
The money can be returned if the payment system receives the status of national importance or stops operating in the country, the report says. The Central Bank also clarified that the order to return the Visa deposit can be clarified, as it doesn't violate the law and actively cooperates with the NSPC.
READ MORE:Domestic MasterCard: 5 Russian banks begin new National Payment System
Visa is currently the only international payment system threatened with a deposit a guarantee fee, according to the CBR.
The question of making a deposit was crucial for Visa, for as soon as the funds arrive at the Central Bank, the regulator would be able to write off a part of them as a penalty for refusing to service the sanctioned SMP Bank and Bank Rossiya, said Dmitry Vishnyakov, an independent expert on the payment market.
Russia has stepped up its effort to make card payments in the country more reliable after both Visa and MasterCard blocked US-sanctioned Bank Rossiya, Sobinbank, SMP Bank and Investcapitalbank last March.
You can share this story on social media: