Economic war against Russia 'dead-end policy' – Greek PM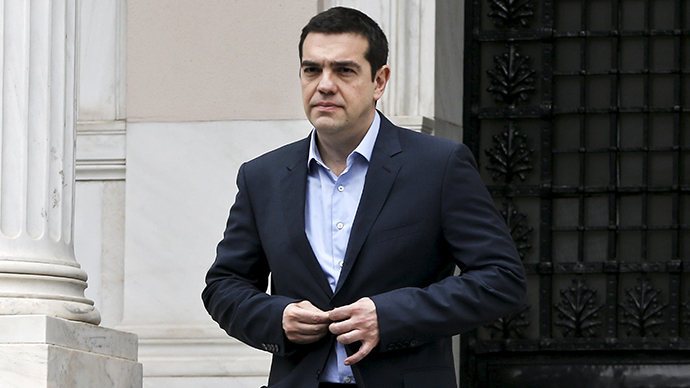 Western anti-Russia sanctions are a "road to nowhere" while dialogue and diplomacy is the way to find solutions for major problems, Greek Prime Minister Alexis Tsipras told TASS.
The Greek premier says economic war is a "dead-end policy," according to TASS which interviewed Tsipras ahead of his visit to Moscow on April 8.
"We do not agree with sanctions. I believe that this is a road to nowhere. I support the point of view that there is a need for a dialogue and diplomacy, we should sit down at the negotiating table and find the solutions to major problems," Tsipras was quoted as saying.
READ MORE: Russian food ban takes huge bite out of Greek fruit growing industry
The prime minister said that right after he won the election he received a message from European Council President Donald Tusk who almost took for granted Greece's position in favor of sanctions. The newly-elected Prime Minister then told the EU Council and the EU foreign policy chief that the situation had changed, and they should ask the new Greek government before taking decisions.
New level of cooperation
There is a chance of bringing the trade between Russia and Greece to a new level, Tsipras suggests, saying that substantial cooperation would allow Greece to export its agricultural goods to the Russian Federation. Trade relations between the two countries have been ruined as previous Greek governments were involved in the sanctions policy. Russia was Greece's biggest trading partner outside the EU with turnover in excess of €5.7 billion in 2013. However, the Greek economy has been seriously damaged as a result of the food embargo last year. Greek producers estimated losses from fruit and conserves at more than €178 million over the course of the year.
READ MORE: Who is hit hardest by Russia's trade ban?
Relations between Greece and Russia have great potential, especially in terms of energy and tourism, Tsipras told TASS. The two countries have close links mainly through tourism; about 1.2 million Russians visited Greece on holiday in 2012.
2016 which will be a cross promotion year for Russia and Greece, and is a great opportunity according to Prime Minister Tsipras.
Meanwhile, this year Greece along with Russia will be celebrating the 70th anniversary of the end of the World War Two which is of great historical importance to both the Russian and Greek people, the Greek Premier underlined.
Bridge between West and Russia
The Greek prime minister's visit to Moscow will lay a new foundation for Russian-Greek relations that have been "frozen" recently.
"It is a real opportunity to make a restart, give new impetus to Russian-Greek relations that have very deep roots in history and are forged in the common struggle of our people," Tsipras told TASS.
READ MORE: Russia seeks to privatize its suffering 'friend' Greece
Russia and Greece are currently in a general risky geopolitical situation with common challenges that need to be considered thoroughly together, according to premier. "We have to consider how our nations and countries can actually cooperate in multiple fields, such as the economy, energy, trade, agriculture… We should explore how our collaboration can be constructive as I really believe that Greece, as a member of the EU, can be a bridge, a bridge between the West and Russia," Tsipras said.
You can share this story on social media: