​Greece to turn to Russia for economic help - media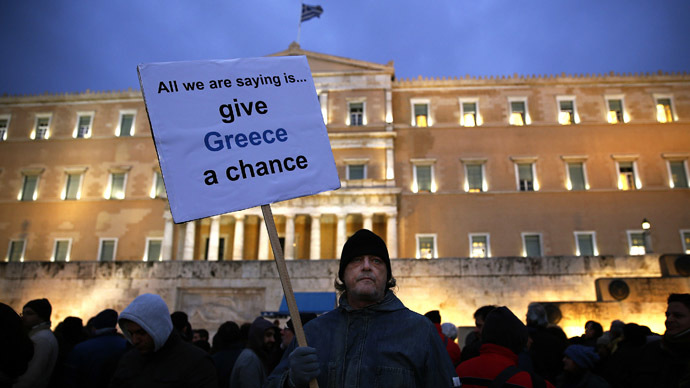 The Greek government reportedly plans to negotiate a possible reduction in gas prices from Russia and the lifting of the embargo on certain types of Greek products.
Relief from the food embargo would particularly cover fresh fruit, reported Der Spiegel on Sunday.
It will be put to the Russian government by Greece's Industrial Reform Minister Panagiotis Lafazanis and Syriza MP Thanasis Petrakos during their two-day visit to Moscow on March 30 and 31.
READ MORE: Hungary, Cyprus and Greece first to return to Russian market after sanctions lifted – watchdog
"This visit is very important for Greece. We intend to deepen our relationship with Russia in the energy sector and thereby hope to gain a significant advantage," said Petrakos as quoted by Spiegel Online.
On March 30, the Greek delegation will meet with Energy Minister Aleksandr Novak and the head of Gazprom Aleksey Miller. Gazprom currently controls almost 70 percent of the Greek gas market.
Greek Prime Minister Alexis Tsipras is planning a visit to Russia on April 8 to meet President Putin. Meanwhile, the European Union is concerned about the possibility of a rapprochement between Moscow and Athens, as Greece has said it could seek financial support from Russia and China if it is denied aid from the European Union.
The recently elected government in Greece has been struggling to keep its economy afloat and in the eurozone since it was elected in January. The country wants to renegotiate its €240 billion debt with international creditors and stick to its pre-election promise to end the era of drastic cuts.
Greek plan
On Friday, Greece submitted its reform plan, as Monday is the deadline for the approval by international creditors. If accepted, it would secure €7.2 billion from the troika of lenders.
Athens has said the reforms are meant to raise €3 billion and exclude "recessionary measures" such as wage and pension cuts.
Khristophoros Vernardakis, general secretary coordinating the work of the Greek government, said in an interview with RIA that the government is ready to propose a number of reforms to the creditors in Brussels on Monday. The key reforms will be carried out in the administration and in the tax system; the government also aims at eradicating corruption and smuggling.
READ MORE: Russia might bailout Greece – finance minister
"The prepared reforms primarily contain a number of administrative changes, organizational and managerial changes in the state, which, however, will bring great financial benefits," said Vernardakis as quoted by RIA.
"We will free the state budget from undue financial burdens in 2015, and over the next two to three years. The benefit of these reforms will be huge; it's not just administrative changes."
Vernardakis said that synchronizing Greek legislation with European will help the country avert heavy fines.
"We believe that the benefit will be at least €3 billion over the next three years, or a billion a year," he said.
The Troika of creditors said in February they were ready to extend the current bailout program until June 2015, but a no official agreement has been reached.
Prime Minister Tsipras has sharply criticized the troika's methods, blaming the creditors for the recession Greece plunged into five years ago.
Greece received two bailouts from the EU in 2010 and 2014 totaling €240 billion. The troika of creditors agreed to provide financial assistance to Greece, if it imposed austerity measures, cutting all kinds of spending. As a result, the country saw its economy shrink by a quarter, with a third of Greeks living below the poverty line and unemployment exceeding 30 percent.
You can share this story on social media: