Financial ramifications of Germanwings crash for Lufthansa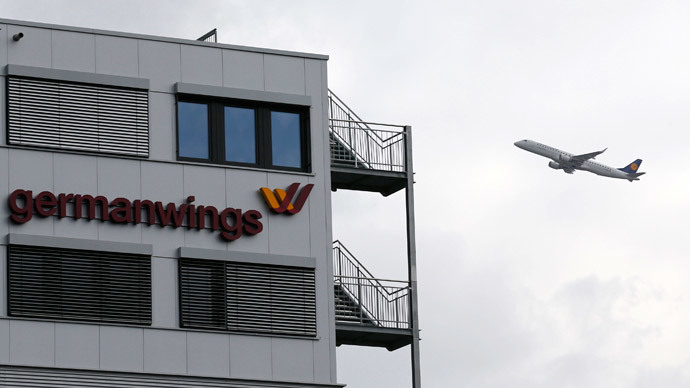 Lufthansa, Europe's biggest airline, will have to compensate the relatives of the 144 passengers who died aboard Germanwings flight 9525. It may also face lawsuits for negligence after the pilot allegedly deliberately flew the plane into the French Alps.
According to the French prosecutor in the case co-pilot Andreas Lubitz intentionally crashed the plane into the mountains after locking the other pilot out of the cockpit. This 'accident' doesn't fall under the general insurance, which covers inclement weather and mechanical failures but under a separate war risk policy.
READ MORE: Germanwings co-pilot appears to have crashed plane deliberately – prosecutor
A $6.5 million claim for the loss of the plane itself was paid on Wednesday, Reuters reported, citing industry sources. Under the Montreal Convention of 1999, the airline will be liable for an additional $175,000 for each passenger or a total of $25.2 million for the 144 passengers on board the Airbus flight from Barcelona to Dusseldorf. In addition to the passengers, there were 6 crew members onboard.
AirAsia, which lost a plane and 162 passengers en route from Indonesia to Singapore, has already racked up £310 million in claims.
However, the $175,000 compensation is a starting point; families can go after the company for more if they sue for negligence. Lawyers suggest they may have a strong case in this instance, since the pilot was left alone in the cockpit, or wasn't properly screened by the airline. Reports are emerging that pilot Andreas Lubitz had a history of psychiatric treatment, and may have been concealed from his employer. If the crash is prove to be caused by 'negligence' the 6 crew members could receive similar compensation, otherwise it will be logged as a workplace death, which has a different compensation regime.
As this isn't the first time a pilot has committed suicide and brought passengers down with himself, relatives may have a stronger case.
Germanwings's Flight 9525: A tragedy in the Alps http://t.co/1mni1OMyWB via @TheEconomistpic.twitter.com/C4CpD2ab7X

— michael mackenzie (@michaellachlan) March 24, 2015
Allianz is the lead insurer for Lufthansa, which owns the budget carrier Germanwings. Part of the cost will be paid out by underwriter AIG Aerospace, which covers war, hijacking, and terrorism, as well as costs associated with passenger loss of life and third party damage, which could be interpreted to include payouts to family and relatives. Reuters also reported that Cathedral, a subsidiary of Lancashire Holdings, is in charge of the war policy in the Germanwing's case.
The search for black boxes, aircraft fragments, and passenger remains is a costly expense. The search is being led by Germany, France, and Spain, who may late file a claim with the airline.
Before the plane descended into the mountains killing all aboard, the German airline had a clean safety record. The last major incident was in 1993 when a crew member and passenger died on the Warsaw tarmac after the Airbus burst into flames during takeoff. The other five crew members and 63 passengers survived.
More than two
In response to the loss of 150 lives in the Alps, many airlines are now implementing a two person cockpit rule, to protect against a repeat scenario.
In the US it is already mandated that the pilot cannot be left alone in the cockpit without another crew member, as well as with Ireland's Aer Lingus and Ryanair, UK airlines Jet2 and Flybe, as well as Canada's Porter.
Air Berlin, Air Canada, easyJet, Monarch, Virgin Atlantic, Norwegian Air Shuttle, Air Transat, Westjet, and Thomas Cook have all changed their policy in light of the Germanwings crash.
Aviation insurance
On March 26, Lloyd's insurance market reported a £310million loss, the largest on record since 2001 and the 9/11 attacks.
Lloyd's said that 2014 "witnessed some sizeable risk losses, notably the tragic events impacting the aviation sector."
Lloyd's of London was founded in 1688 and is the world's biggest insurance market with gross written premiums of £25.3 billion.
Last year was a particularly costly year for aviation insurers with a record number of disasters that ranged in motives and causes.
Timeline of crashes in last 365 days
March 8, 2014:Malaysia Airlines Flight MH370 disappeared
July 17, 2014:Malaysia Airlines Flight MH17 brought down over E. Ukraine
July 23, 2014:TransAsia Airways Flight 222 crash landed in Taiwan
July 24, 2014:Air Algerie Flight 5017 crashed in Mali
August 10, 2014:Sepahan Airlines Flight 5915 crashes after takeoff from Tehran
December 28, 2014:Indonesia AirAsia Flight 8501 crashed into Java Sea
February 4, 2015:TransAsia Airways Flight 235 crash-landed into river in Taiwan
March 5, 2015:Delta Airlines Flight 1086 veered off NYC runway
March 24, 2015:Germanwings Flight 9295 crashed into French Alps
In addition to mid-air tragedies, insurance companies also provide coverage for airports. Fighting at the Donetsk airport in Ukraine has all but destroyed the $1 billion airport built just 3 years ago for the European Cup, and rival militias in Libya have also caused significant damage to Tripoli airport. The damage to the Ukrainian airport has been ongoing since war broke out last year, and the Tripoli airport was hit hardest by a militia attack in July.