Plane skids off LaGuardia airport runway in heavy snow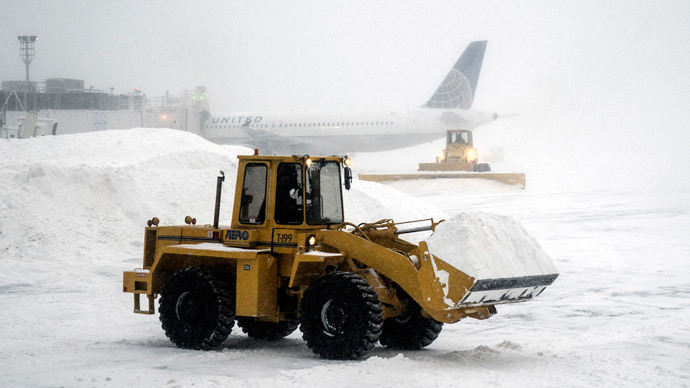 A passenger airplane skidded off a snowy runway at LaGuardia Airport in New York City on Thursday morning, and federal authorities have suspended flights for hours to come over inclement weather.
The plane, an inbound flight operated by Delta, "skidded off" the runway at the Queens, NY airport at around 11 a.m. local time, the city's fire department confirmed on Twitter shortly after.
FAA: @Delta 1086 ATL-LGA landed & slid off runway 13. No reports of any injuries. #NYC#snow (Pic: @kristina__g) pic.twitter.com/ERLzDWVA6N

— Jon Williams (@WilliamsJon) March 5, 2015
Personnel and passengers were evacuated off of the plane, according to the New York Port Authority, and no injuries have yet to be reported.
delta plane slid off runway. hope all is well #lga #delta

A video posted by steven vega (@awd_addict) on Mar 5, 2015 at 8:28am PST
As snow and ice continues to cause problems at the major air hub, however, the Federal Aviation Administration told CBS News on Thursday morning that it has authorized a ground stop at LGA — one of the busiest airports in the United States — as flights across the northeast are grounded.
We have all been evacuated. Everyone is safe. Thank you for your prayers. God is good.

— Jaime Primak (@JaimePrimak) March 5, 2015
According to the Associated Press, Delta said 125 passengers and five crew members were onboard the aircraft when the incident occurred.
RT @grlopez4: #BREAKING Plane Off Runway at LGA. Pics Courtesy: @_veeestchic_ #LiveOnKOMOpic.twitter.com/Sbq8yuV9cx

— Wednesday (@Wednesday_S) March 5, 2015
"Delta flight 1086 from Atlanta to New York-LaGuardia exited Runway 13 Thursday morning during landing," the airline said in a statement. "Customers deplaned via aircraft slides and have moved to the terminal on buses. Our priority is ensuring our customers and crew members are safe. Delta will work with all authorities and stakeholders to look into what happened in this incident."
Closing is understandable. @NYCAviation: BREAKING: Delta MD-80 off the runway at #LGA. #breakingpic.twitter.com/bZKT6A7n7V

— This is CHEESECAKE!! (@sqlcheesecake) March 5, 2015
Photos taken by eyewitnesses at the airport show that the plane skidded into a fence after landing on runway 13, and a local NBC News affiliate reported that only three inches of snow had fallen in New York at the time of the landing. Flights at LGA have since been suspended until 7 p.m. local time.
#Delta plane skids off runway at #LGA#LaGuardia Courtesy @steveblaze98pic.twitter.com/JzicqTKgSf

— Renee Stoll (@ReneeStollABC7) March 5, 2015