Gender-balanced workforce more healthy, can boost national economies - study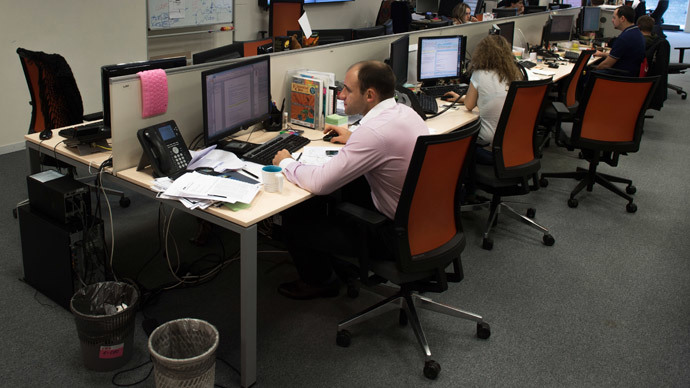 With a more gender-balanced labor market European Union countries could potentially increase their GDP by 20-25 percent. Research by Reykjavik University says a better balance encourages greater job satisfaction and higher productivity.
A more balanced workforce with an equal mix of men and women can boost national economies as it increases job satisfaction and performance in the workplace, Reuters reported on Tuesday. It also reduces poverty among women and children and increases economic independence for both men and women, according to the results of a survey of 1,000 men and women, which was conducted by Professor Katrin Olafsdottir of Iceland's Reykjavik University.
The survey also revealed there is less absenteeism and staff turnover compared workplaces dominated by women or men.
"Not only do men and women feel better when working together, but they also seem to perform better," explains Katrin Olafsdottir.
A gender balanced workforce creates happy workplaces. http://t.co/TR4Y374vlp

— Mona Shrestha (@mona_stha) March 17, 2015
Women in the workforce are facing many barriers, starting from unequal pay and less opportunities for advancement. A recent study by the Institute for Women's Policy Research showed that women won't see equal pay in this century and beyond. If the gap continues to narrow at the current rate, women in the US won't see equal pay until 2058.
In the United States women's employment has stalled at about 57 percent latterly with women earning only 78 percent of what male counterparts earn. The United States is one of the few developed countries failing to mandate some form of paid leave, despite research showing that businesses that voluntarily provide paid leave enjoy higher productivity and lower employee turnover, a member of the White House Council of Economic Advisers Betsey Stevenson said. She also added that the lack of national legislation guaranteeing paid sick, maternity and family leave, as well as a shortage of high quality and affordable childcare is the key factors keeping American women out of the workforce.
READ MORE: Russia ranks highest for female top managers
In the UK the number of the female jobless is expected to hit a 26-year high of 1.5 million by 2018. India has one of the lowest female labor force participation rates among developing nations. Female workforce participation there was at 33 percent in 2012, which is less than the 50 percent global average, according to data released by the IMF.
Meanwhile, Russia is a leader when it comes to women's career development, with 40 percent of top managers women, according to research published earlier this month by Grant Thornton. The country, however, also faces a large gender gap in earnings between men and women, with women on average earning 30 percent less than men.
The challenge for many countries is to get more women to enter the workforce and stay there, the research showed.
You can share this story on social media: