Russia ranks highest for female top managers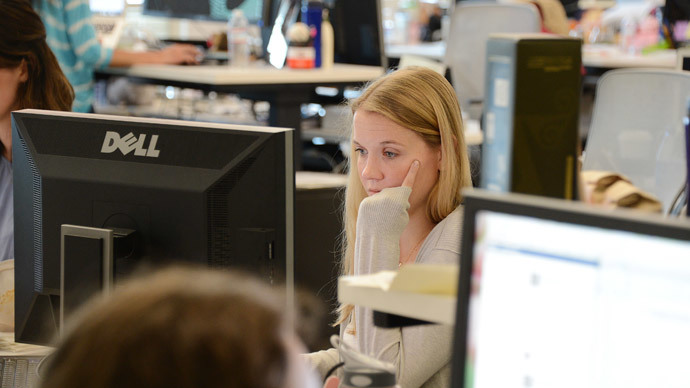 Russia is leading the way when it comes to women's career development, with 40 percent of top managers women.
Russia women generally succeed in information technology, retail, media, manufacturing, transport, communications and politics, according to research by Grant Thornton published Thursday. Professions in such fields as gas, oil and metals are mainly led by men.
It is closely connected with demographics as women in Russia make up 57 percent of the population. Russia also has one of the world's highest divorce rates, which often means women have no choice but to become the breadwinners, Tatiana Gvilava, the president of the All Russia Organization for Women in Business told the FT.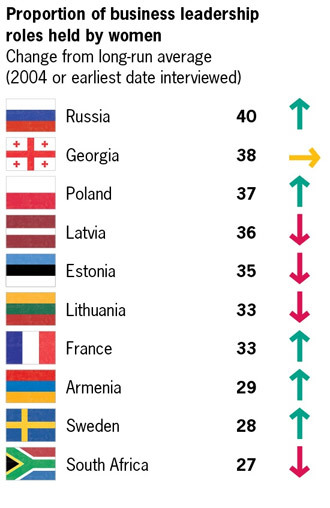 The Grant Thornton report didn't publish the names of top female managers in Russia. However separate research by Russia's Institute for Business and Politics earlier this month ranked women mangers by their political clout, and how they were regarded in their industry. Top came Olga Uskova, the president of Cognitive Technologies Group, followed by Olga Pleshakova, the head of Transaero, and Natalya Kasperskaya, the boss of InfoWatch third.
On the other hand, Russia faces a large gender gap in earnings between men and women, according to the World Bank. Women on average earn 30 percent less than men. Although base salary rates in Russia are equal for both sexes, women often agree to receive lower wages, as they are more interested in keeping a job, says Elena Vitchak the head of human relations at the Russian investment group AFK Sistema.
Russia is joined in the top ten by six other countries from Eastern Europe, including Georgia at 38 percent and Poland with 37 percent.
Japan is still the country with the fewest female managers with 8 percent, and Germany at 14 percent and India with 15 percent are only marginally better at the bottom of the list.
The figures show little change in gender diversity in a decade, as only 22 percent of senior roles are held by women today, compared with 19 percent in 2004. Around a third of businesses have no women in senior positions, although this has fallen by 6 percent over the past three years.
A separate report by the International Labour Organization (ILO) placed Russia in 25th position at the beginning of the year.
According to the ILO, the largest percentage of women in managerial positions was recorded in Jamaica (59.3 percent). The second and the third place were shared by Colombia (53.1 percent) and St. Lucia (52.3 percent). The ILO came up with the same figure as Grant Thornton of 39.1 percent for women managers in Russia.
You can share this story on social media: