​US shale boom may be over by end of 2015 – OPEC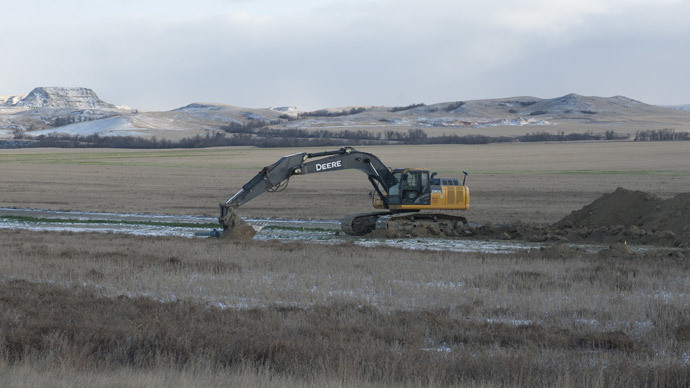 OPEC is forecasting a possible decrease in US shale oil production by the end of 2015. The number of operating drilling rigs working shale deposits is likely to fall since the price of oil has more than halved since June 2014.
The cartel questions the ability of US producers to withstand the dramatic collapse in oil prices and predicts that global oil supply will equal demand, it said in its monthly report published Monday.
"Tight crude producers are aware that typical oil wells in shale plays decline 60 percent annually, and that losses can only be recouped by drilling new wells," says the report. "As drilling subsides due to high costs and a potentially sustained low oil price, a drop in production [in the US – Ed.] can be expected to follow, possibly by late 2015."
Previously OPEC has been predicting US shale production would decline in 2018.
Although the total US crude production hit a record 9.4 million barrels a day last week, OPEC insists that tight oil production is more cost-based and vulnerable to crude prices that have recently dropped below $45 a barrel for NYMEX futures contracts.
On Tuesday, the price for WTI April futures was $43.18 per barrel at 14:00 MSK, while Brent futures for May were trading at $53.44.
Oil is tumbling again http://t.co/t9mIBrcx8npic.twitter.com/aPoAOhM3Lb

— Bloomberg Markets (@markets) March 17, 2015
In January, tight oil producers abandoned many uncontracted rigs as they became unprofitable with the accelerated price declines, according to the report. The number of US oil rigs has seen a record fall to below 1,000. Last week 56 were withdrawn making 866 operational, the lowest number since March 2011, according to Baker Hughes.
The number of active rigs has declined for 12 straight weeks. In comparison, there were 1,609 rigs working in October.
However, the US tight oil producers have already felt the effect of falling oil prices, as production at a number of major fields has already stopped. Last week more US oil companies filed for bankruptcy protection, including Houston-based BPZ Energy, Dune Energy and Cal Dive International.
READ MORE: $200 bn in debt looms over American oil and gas
However, OPEC data contradicts last week's IEA report in which the agency predicts US oil production will continue to grow through 2020 with increased productivity from fracking of underground shale formations.
The diverging opinions of OPEC and IEA show how difficult it is to make an accurate forecast in the turbulence of the current world energy market.
"It is an experiment. Nobody has a clue," said Olivier Jakob, managing director at Swiss-based consultancy Petromatrix in Zug, Switzerland, to the WSJ.
The forecast for global demand hasn't changed in March compared with the February report, thus OPEC expects world oil demand to be at 1.17 million barrels per day in 2015. However, the cartel reduced the forecast demand for its oil to 29.19 million barrels per day compared with 29.21 million in the February report.
The forecast on increasing production in non-OPEC countries remains unchanged, thus oil supply is projected to grow by 850,000 barrels per day.
OPEC reported its overall oil production in February decreased by 140,000 barrels per day to 30.02 million mostly from Iraq, Libya and Nigeria, while production showed increases in Saudi Arabia and Kuwait.
The next time OPEC will gather to discuss oil output and prices is going to be at the meeting scheduled for June. However, the cartel is likely to keep production at 30 million barrels a day, as global supply and demand remain unchanged, Kuwait's OPEC governor Nawal Al-Fuzaia said last week.
You can share this story on social media: