German energy giant E.ON records biggest annual loss in company history
Published time: 11 Mar, 2015 15:58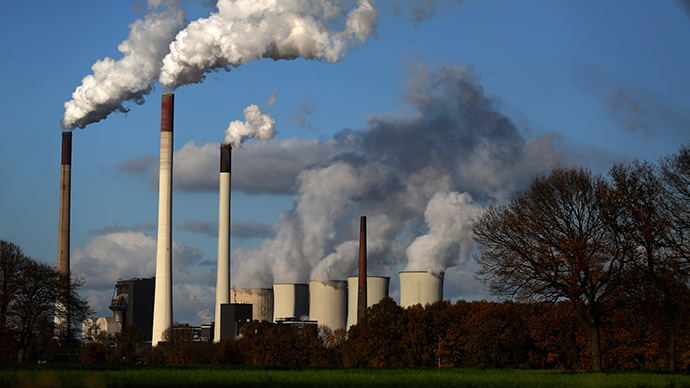 Germany's biggest power supplier, E.ON, saw its worst annual net loss of €3.2 billion in 2014. Profits were wiped out by the company's transition to renewables, as well as low oil prices and volatile currencies.
"The earnings situation reflects the persistently difficult situation on energy markets in Germany and Europe," E.ON said in its 2014 Annual Report, published Wednesday.
By comparison in 2013 the company recorded a €2.14 billion profit.
In December, E.ON announced it will split into two companies – one focused on renewables and the other on fossil fuels. The company said in December it expected the spin-off, which required divesting several power generation assets in Europe, would cost the company $4.5 billion and lead to an overall loss in 2014.
Despite very heavy subsidies #greenenergy never delivered on its promises: Very expensive & much more maintenance than promised. #EON

— Lars Pellinat (@Lars9596) March 11, 2015
Germany's energy sector has been in disarray since 2011, when the government, in the wake of the Fukushima disaster, banned nuclear power, which up until that point provided 50 percent of the country's power.
The company said low oil prices and volatile currency exchange rates, especially in Russia and Sweden, took a large chunk out of earnings, which were €8.3bn before interest, tax, depreciation and amortization. In 2015, the company expects EBITDA of €7-7.6 billion.
READ MORE: Germany's energy industry a 'disaster' – France's EDF chief
The depreciation of the ruble has hit the company, which has its biggest production asset in Russia. E.ON chief Johannes Teyssen said the company gets about 6 percent of operating profit from Russia is concerned about the situation in Ukraine and its effect on the Russian economy and ruble.
"Significant movements in the rates of some currencies, declining oil prices, and continued low interest rates in Europe are having an adverse impact on some components of our earnings…and no one can say with certainty how long these trends will last," Teyssen said.
Dwindling production has affected the group's gas fields in the UK North Sea, Russia, Algeria, and Norway.
"It's also true that extremely low oil prices, adverse changes in currency rates, and a further decline in power prices are having a significant effect on our business," the company said.
This is the biggest loss the group has experienced since it was founded in 2000 when energy utilities VEBA and VIAG merged.
Rivals RWE and GDF have produced similarly negative outlooks on their company's profits and investments in the coming year.