Gazprom supplies of gas to Donbass to be 'factored out' of Kiev prepayments
Published time: 2 Mar, 2015 23:01
Edited time: 6 Mar, 2015 14:11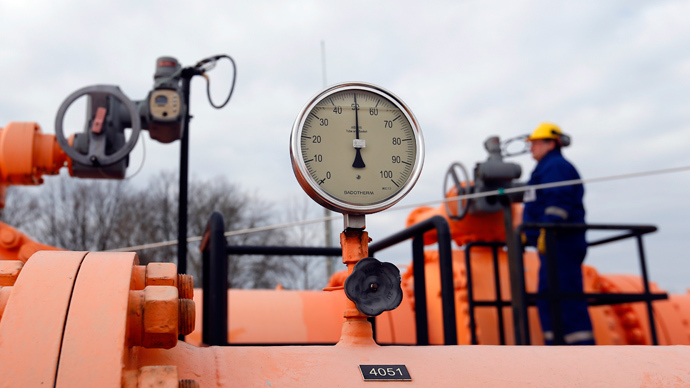 Supplies of Gazprom gas to war-torn regions in south-eastern Ukraine will not be accounted to Kiev's prepaid gas volumes of the current 'winter package' deal, the Russian energy minister said after trilateral talks in Brussels on Monday.
"We've agreed that the amounts of gas that have been recently supplied by Gazprom to certain regions in Ukraine's south-east will be now factored out. They will not be taken into account when calculating prepayment for the winter package, according to which gas is currently being supplied" Russia's Energy Minister Aleksandr Novak said on Monday, after meeting with Ukraine and EU top energy officials in Brussels.
Such gas supplies to the region will be part of separate calculations and further talks, Novak added, saying that they are attributed to a 2009 Gazprom and Naftogaz contract. Next meeting regarding Russian gas supplies to Ukraine and a "summer package" will be held later in March, the minister said, explaining that there is no such a necessity at the moment.
"Agreements that have been reached in October 2014 are currently in action, they have not been canceled by anyone, so they will apply until the end of March," the minister said, referring to the so-called 'winter package' that was sealed last October and fixed the price at $378 per 1,000 cubic meters. However, a drop in the cost of oil led to lower prices, with gas now supplied to Ukraine at $329.
"Gazprom will supply as much gas as is paid for," Novak said, adding that his Ukrainian counterparts confirmed their ability to pay for the gas, with its amounts depending on weather conditions in the country.
While gas disputes between Moscow and Kiev are considered a huge threat to Europe, which gets half of its Russian supplies through Ukraine, Kiev has now promised to provide a consistent transit of gas to Europe. Following the Brussels talks, Ukraine assured the EU that there is no threat to the transit, Moscow's ambassador to the EU Vladimir Chizhov said on Monday.
A new gas standoff between Russia and Ukraine broke out a week ago, largely over supplies to Donbass. On February 18 Naftogaz suspended deliveries to the area because of what it said was damage to the pipelines during the military operation.
Russia then startedsupplying gas to Donbass directly, warning that a prepayment delay by Ukraine may deprive the country of further Russian gas.
READ MORE: Putin: Gas supplies to Europe could suffer in 3-4 days if Kiev doesn't pay
President Vladimir Putin called for Ukraine to decide whether it considers Donbass its territory and take responsibility for the situation. He added that cutting gas to the war zone "smells like genocide."
On Friday Ukraine's cash-strapped Naftogaz paid Gazprom $15 million for gas, enough to cover supplies of until Tuesday. The country's economy is now in ruin, with Naftogaz on the brink of default.
In recent months Ukraine has been stockpiling Russian gas that it prepaid last December. That month it received 488 million cubic meters of Russian gas which soared to 772 million cubic meters between February 1 and February 25 this year, according to data from the Ukrainian gas transmission system operator Ukrtransgaz.