Russia could change food embargo - Kremlin spokesman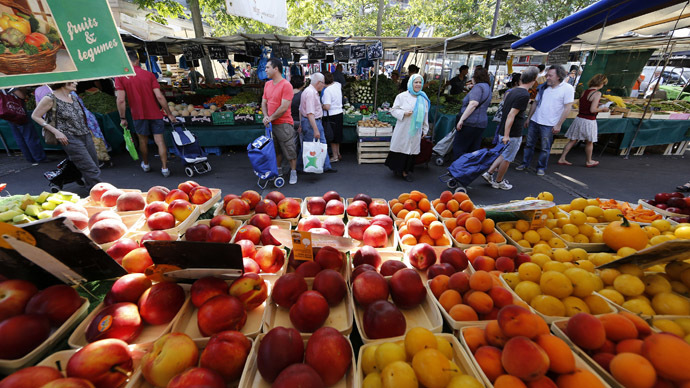 Russia may loosen its embargo on food from some EU countries such as Greece by allowing agricultural products to be processed within the country, said Kremlin spokesperson Dmitry Peskov.
His comments come after the Greek government asked Russia to lift sanctions on supplies of "key agricultural production" such as peaches, strawberries and oranges that are being left to rot due to a lack of a market.
READ MORE: Russian food ban takes huge bite out of Greek fruit growing industry
Under WTO rules, Russia cannot make an exception for Greece by lifting the sanctions against the European Union; Peskov is quoted in the Izvestia newspaper.
"There are quite straightforward rues of the World Trade Organization, and Russia, as a WTO member, cannot choose. We cannot impose sanctions against EU member states and selectively lift sanctions on one of the countries," he said.
READ MORE: Who is hit hardest by Russia's trade ban?
However, in this case direct deliveries of agricultural products can be substituted by "imports of raw materials with an investment in Russia-based food processing facilities," Peskov said.
Earlier in February President Putin said Moscow would be able to cooperate with Hungarian agriculture despite sanctions and added that the establishment of joint ventures will help avoid the difficulties caused by Russian countermeasures against Western sanctions.
'To be worked through'
Experts who talked to Izvestia say that this goes against the presidential decree that bans the import of raw materials, including berries, fruit and vegetables.
"According to the so-called tolling scheme, the provider (in this case, of fruits and berries) gives the plant a contract for processing, without losing ownership of their products," said Irina Koziy, Managing Director of the Fruitnews agency.
"So far, processing is expensive in Russia and it's worth more to suggest the opposite - processing abroad," she said, adding that exports of agricultural products by Greece followed by exports of some processed products from Russia make no sense.
Talking about possible amendments to the presidential and government decrees on sanctions, Peskov said that "the issue will be worked through," but there are no one guarantees the negotiations will result in such a scheme.
Greece and Hungary have opposed sanctions against Russia from the start, saying they primarily hurt those who impose them and make no sense practically. Most recently the newly elected government in Greece vetoed a new round of anti-Russian sanctions, openly calling for an end of the economic standoff.
Russia imposed a ban on agricultural imports from the EU, US, Norway, Canada and Australia in August 2014 as a response to Western sanctions over the crisis in Ukraine. The ban applies to imports of meat, dairy products, seafood, fruit and vegetables.
READ MORE: Putin bans agricultural imports from sanctioning countries for 1 year