Visa joins MasterCard localizing Russian payments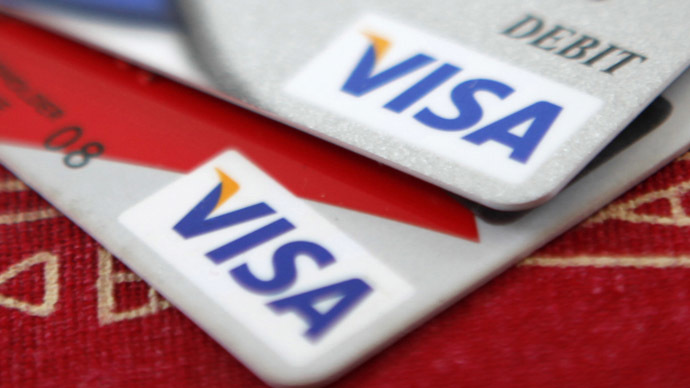 The Visa international payment system, which has the biggest share of the Russian market, will process domestic payments through Russia's newly created National Payment System.
"On 18 February 2015, JSC NPCS and VISA Payment System LLC concluded a bilateral agreement on operating and clearing services on domestic VISA payment system card transactions to be provided by the NPCS [National Payment Card System – Ed.] processing center," the Central Bank of Russia (CBR) said Thursday.
The transfer of Russian domestic transaction processing to NPCS will be implemented in stages, and should be complete by March 31, 2015.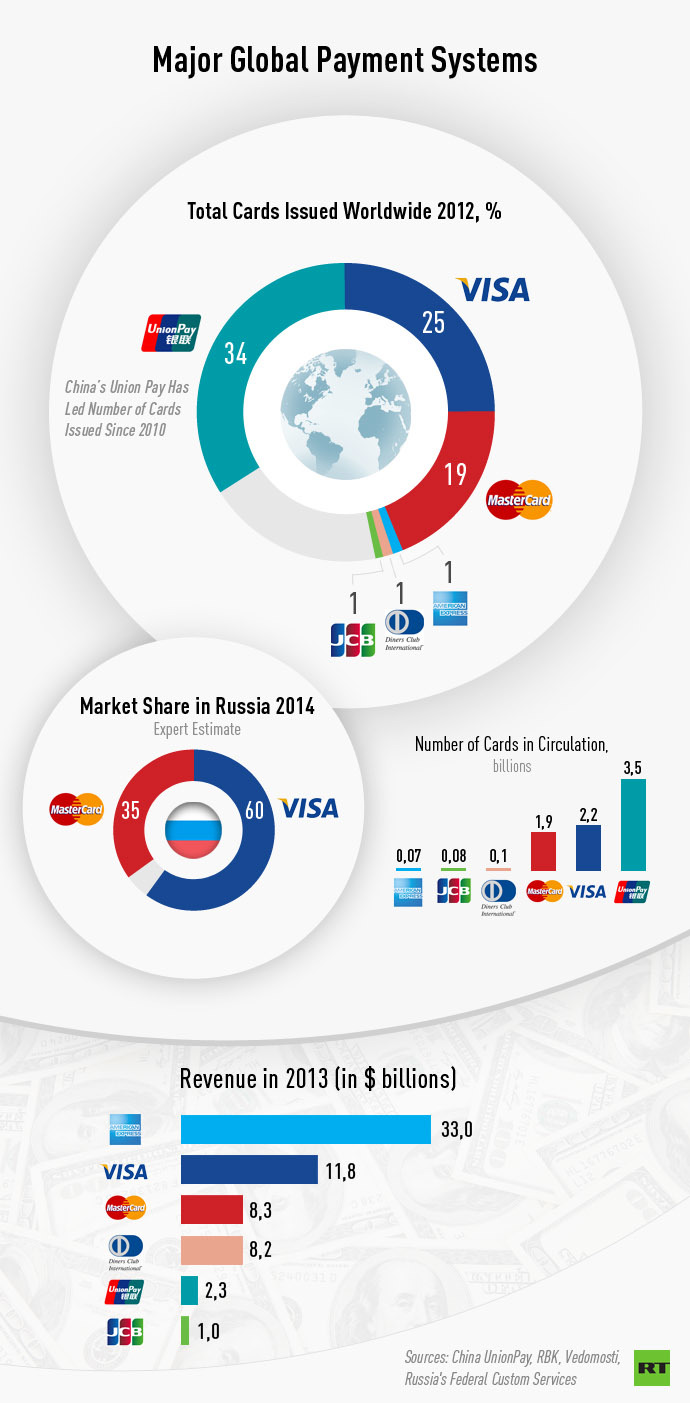 Russia stepped up its effort to become more financially independent after both Visa and MasterCard, which together have more than 90 percent of the market, disrupted operations in Russia. MasterCard and Visa suspended service to Russian banks in Crimea as part of US sanctions over the Ukrainian crisis.
READ MORE: Sanctioned: Visa, MasterCard suspend servicing Russian banks in Crimea
In January MasterCard signed a similar agreement along with five Russian banks, including Gazprombank and Bank Rossiya, and started to carry out card transactions via the NPCS processing centre and settling through the Bank of Russia.
READ MORE: Domestic MasterCard: 5 Russian banks begin new National Payment System
Processing localized transactions is one of the principal terms for Visa and MasterCard to become nationally important payment systems in Russia. Such a status relieves Visa and MasterCard from paying a security fee to the Central Bank, which would have cost the two payment systems $3 billion, according to estimates by Morgan Stanley.
In December the Central Bank announced a move to an alternative international payment clearing system to the SWIFT global system of interbank payments, as relations worsened with the West. Russia feared the West might cut it off from the SWIFT system as part of sanctions.
However, SWIFT said it wouldn't bend to EU pressure and close services in Russia.
READ MORE: SWIFT: 'No authority' to suspend Russia, Israel from intl payments over sanctions