Record ruble rally on back of higher oil & Ukraine stabilization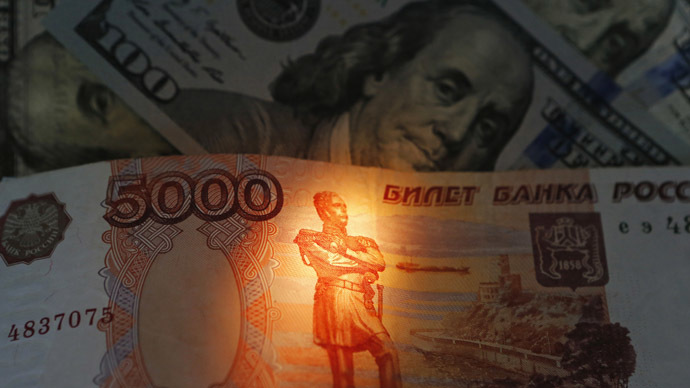 The Russian ruble has been the best performing emerging markets currency in February, adding 12 percent since the beginning of the month. Higher oil prices coupled with a Ukraine ceasefire agreement and stabilization in Debaltsevo has inspired investors.
The Russian currency traded at around 62 against the US Dollar at 16:00 pm, Moscow Time, with the euro standing at 70. This marked a slight cooling from Wednesday when the ruble hit a six-week high of 61.17 to the dollar, but is a huge jump from the 69.6 rate at the start of February.
Ruble Rocket: February's 12% gain in the #ruble v $ is the biggest monthly jump ever... pic.twitter.com/gwFHTSbNlK

— Mark Barton (@markbartontv) February 20, 2015
The oil prices have been volatile this week, with optimism over a stabilizing situation in Ukraine and the coming tax payments in Russia playing a big role in the currency's growth. At the time of publication, April futures for Brent crude added 1.11 percent to $60.88 a barrel.
READ MORE: Ukraine peace deal: Ceasefire starting February 15, removal of heavy weapons
"The ruble has its foundation for growth, which consists of a set of factors", Alyona Afanasyeva from Forex Club told RIA Novosti. "First of all, it's geopolitics – the stabilization of the situation in the Debaltsevo area and telephone conversations in the so-called Normandy format show that the latest obstacles to the implementation of the Minsk agreements are being eliminated," she added.
"The ruble is supported by massive sales by exporters that Thursday's trading were steadily closing the continued demand for the currency," Dmitry Polevoy, chief economist of ING Bank was quoted by TASS. "The upcoming tax period is likely to affect as well," he added.
Russian exporters convert some of their foreign currency earnings to pay ruble-denominated taxes to the state budget each month. That support has increased since the government began monitoring exporters' foreign exchange sales to ease pressure on the ruble, which collapsed in December.
READ MORE: Ruble recovers, as big exporters ordered to behave